Mogan - Gran Canaria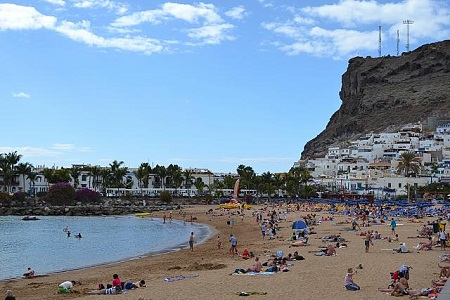 Mogan was on my list as a nice idea for a day trip with space for it in the small resorts section but having just been down there to look at what's developing, it gets a page of its own - talk about developing, HUGE!
The origional Mogan is still very much there and for the main part, hasn't changed and won't much either (wasn't any space for it to change). Quaint and colourful houses forming a maize of streets filled with flowers and trees. To the far side the streets become small waterways, a little Venice if you like and to one side is the origional fishing village built into the mountain, the other side a luxury marina full of local boats, yachts and Atlantic cruisers. By the harbour there's a vast choice of restaurants and bars, some of the best fish restaurants on the island by the way. The souvenier shops are arty-crafty kind of shops rather than the usual rubbish you find in other places.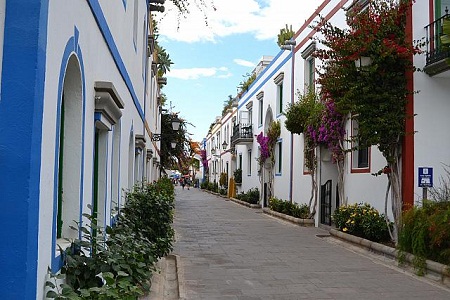 You never got the impression you were in a resort when you were in Mogan, it had a more Spanish, local feel about it. In spite of that there was the beach, various excursions leaving from here (the yellow submarine adventure always a good one), a very nice hotel and a lot of private buidlings that had been given over to holiday apartments. So, a resort it always was in a way but a major resort it's about to become ......
The only part of the old "Puerto" that's changed is the beach and I have to say, for the better. It used to have a backdrop of waste-land and the mountains. The latter can still be seen but it now has a promenade lined with cafes and shops (that you can maybe see in the above photo) and a few more of those nicely designed, residential-style apartments. You'd have to walk away from the beach up at least one side-street if not two before you could see the rest of the developement.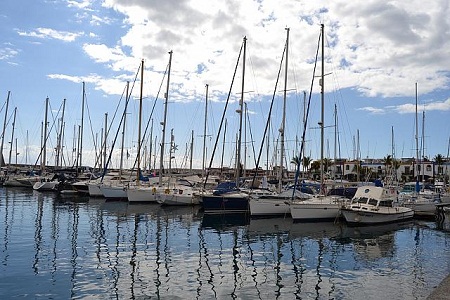 Part of the area around Mogan still resembles the photo below but a few months ago, everything away from the puerto did. It's on this barren (and pretty ugly) land in the valley that the buidling is taking place. There's a major 4 star hotel on its way up along with a luxury 5 star complex and grounds. Each should have around 70% of it's space dedicated to "grounds" (such as pool, gardens and I think the 5 star is going to have its own enclosed beach by their pool), that is if they follow "the building rules" I was told about.
Several quality apartment complexes are going up too and a couple are actually finished. There's also residential styled villas and apartments though I am sure most of these will be given over to tourism as well when everything's completed.
So don't let the developement put you off a visit to Puerto de Mogan as it's still very much there. There's a big Market aimed more at tourism than the locals every Friday morning. I've mentioned the great fish restaurants and the submarine and there's a regular ferry service from Puerto Rico harbour.
If you're off there by car then the actual village of Mogan is also worth a visit. Now this IS more Spanish as well as rural in style, totally unspoilt by tourism (or it was the last time I was there) and home to some nice, traditional, Canarian restaurants. It's around 6km north and up the west coast.