| | |
| --- | --- |
| | Parque Cocodrillos |
A full day is recommended to enjoy everything here including the journey time. "Corralillos" is located a couple of kilometers away from the town of Aguímes. If driving, you need to get on the motorway and take the exit at Vecindario, just past the Carrefour/shopping center on your left as you head north (it's the last exit before the airport). At the first roundabout you arrive at, take the last exit and this road takes you straight there. Remember to take the last exit off the roundabout, the one after that marked Aguímes. I'm telling you all this as there's no public transport to get here other than the special coach service that the park provides for €1.20. This operates from Puerto Rico, picking up outside the "Jamaica Supermarket"at 10:30 with the return journey leaving the park at 15:00. If that doesn't limit you then this free bus service only operates on a Thursday and Sunday and a taxi will cost you loads of money!, more than €36.00 so you're better off going in a hire car. A third option is catch the no 30 bus from Puerto Rico, leaving every 20 minutes to "Parque Atracciones" (the fun fair) in Maspalomas. Change here for an hourly bus service to the Crocodile Park,leaving on the hour, every hour between 09:00 and 15:00 with returns hourly until the last one leaving at 18:00.
So, on to the park itself, over 300 crocodiles, tropical and Canarian fish, other reptiles, tarantulas and a parrot show are some of the things on offer here. Not surprisingly, this is a park that specializes in crocodiles,all shapes and all sizes from all over the world. They start by displaying the egg stage and newly born in various tanks then take you up a size to the half-grown stage. Next a size larger to the smaller breeds from places such as Florida, housed in outdoor facilities and on to the larger breeds such as a pool full of Nile crocodiles. Kids will be safe, not only can't they poke their fingers through to any danger but I found it almost impossible to throw one into any of the pools! Staying with the crocodile section of the park and there's three shows daily whilst they feed the Nile crocodiles, mainly to demonstrate their strength and agility (for those of you who missed "Tarzan" on TV). The shows are daily at 12:00 14:00 and 16:15. A restaurant divides the park into two halves. It's in the restaurant that you can also catch their parrot show. Something more for the kids although I was highly entertained by the numerous tricks they can do from roller-skating to doing a jigsaw puzzle, two things even I can't do!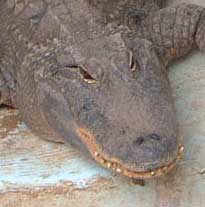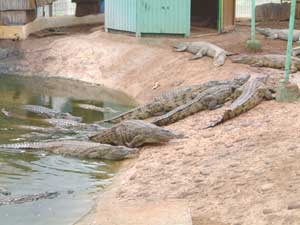 The second half of the park is a zoo. The first thing I came across was an enclosure for their baby chimpanzee. I didn't bother asking how dangerous his teeth were before sticking my hand through the cage but the closest he came to gnawing my fingers off was sucking my thumb. Very tame,very cute and he entertained me for a good hour or more playing numerous games with my arms, and me before finally letting go. There's a large chimpanzee section further in the zoo along with sections for various other monkeys. Tigers (cubs too!), Jaguars, camels and more familiar sights of deer, horses and pigmee goats are some of the animals on display here and again, feeding times are entertaining although not at fixed hours.
The park is run as a charity, receiving no funds from the government it relies completely on entrance fee money to feed and look after the animals and slowly expand. All the animals in the park have been rescued from the streets where they are used as attractions for money, some are no longer wanted by circus owners and some even started out as pets. All have been badly treated, poorly fed, some have had their teeth and claws removed with pliers by their previous owners. All the animals I saw on each of my visits to the park look happy and healthy, introduced to groups (of their own species of course) and cared for by the family of 4 (parents, brother and sister who live on the premises). Occasionally, you may see a new arrival, a monkey perhaps or a big cat that looks a little bewildered or badly fed, this would be a new arrival to the park. The family are constantly striving towards expanding the park and in the few years I have been here I am happy to say I have seen big improvements but would love to see more. So, please, GO TO THIS PARK and support their cause just by paying your entrance fee!