| | |
| --- | --- |
| | Submarine Adventure |
Hmmmm "no comment"

| | |
| --- | --- |
| | Skydiving |
For more details, times and prices etc.,
call (00 34) 928 157325 or 928 157000
This is something else I haven't tried yet, but then I'm not going to either! You don't need any experience or medical certificates and only 15 minutes of training as all jumps are tandem jumps with a qualified (certified!) instructor. A 20 minute flight takes you to 12,000 ft where you free-fall to 4,500 ft where the parachute will (hopefully) open. Joking aside a minute, parachutes are equipped with "Cypress - Hightech - Emergency release systems to help make everything extra safe." Jumps are daily apart from Monday and the whole thing can be either filmed or photographed for you.
| | |
| --- | --- |
| | Sioux City |
Sioux City
Open 6 days a week - closed Monday - from 10:00 to 17:00.
(Entrance €14 adults and €7 for kids).





Also Open one evening a week - Fridays from 6pm at €52 for adults and €22.00 for children including BBQ and a 90 minute "wild west" extravaganza.

Catch the bus service number 1 from Puerto Rico but ask for "Aguila Playa". Once there, if you see a number 29 it takes you to Sioux City but they're not too frequent and it's only 300 meters away so you may as well walk or catch a cab. Returning, buses leave Sioux City at 13:45 14:30 15:25 15:45 17:15 and 18:00 to "Aguila Playa" and the number 1 service to Puerto Rico runs every 20 minutes from there.

A very entertaining day or evening out to a western theme park that offers a wild-west town with saloon, bank, general store, sheriff's office, church, houses, indian reserve with buffalo and more. Shows include a bank hold-up, sudden shoot out, cattle stampede, knife throwing indians, lasso tricks and dancing saloon waitresses! There are cowboys, indians and Mexicans. For an extra charge you have the chance to ride a horse here too. Origionally built as a movie set for wild west films (Fist Full of Dollars), this is now put to very good use.

| | |
| --- | --- |
| | Mundo Aborigen |
Mundo Aborigen
Open 09:00 - 18:00 7 days a week

Located on the road from Maspalomas to San Bartolome and close to the village of Fataga, Mundo Aborigen is best accessed by car. The no1 bus service runs every 20 minutes from Puerto Rico and will take you to "Aguila Playa" and from there you can either catch a cab as it's just a 5 minute drive further on.

This is a museum, situated in a National Park and supported by the Canarian Government. Aborigen world shows everything about the first inhabitants of the islands, known here as the Gaunche, the aboriginal history has been recreated in the form of a village with a separate museum. You'll learn about their world of magic, religion and burial rites, see how they lived, their homes and farms. Various shows and demonstrations make this a fascinating day out. There's a restaurant, parking, souvenir shop and gardens here too.
| | |
| --- | --- |
| | Go Carting |
Tel 928 141238 Open 10:00 - 21:00 7 days a week
Prices - Adults = €18 & Children €12 for 8 minutes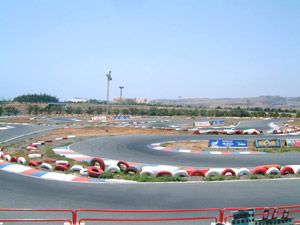 The go carts are located just of the main motorway (exit 38 GC1) after the San Augustin exit (heading north). Once off the motorway follow the sign for Las Palmas and you'll see the track ahead.
This is Spain's longest carting track and the price shown is for ten laps. The #91 express bus service from Puerto Rico will take you there in around 45 minutes, leaving at quarter to every hour during the day.There's a junior and regular track and children must be 12 years or over to go on the larger, regular one.

| | |
| --- | --- |
| | Guayadeque |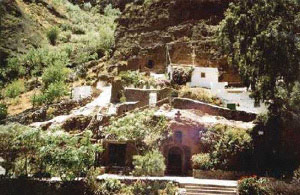 Located on the eastern edge of the mountains, Guayadaque is a national park and host to some breathtaking views of the mountains here, lush green valleys filled with almond trees, worth visiting for this alone. However, the "barranco" or valley there is more known for it's caves, most of which are in use either by farmers or by the locals who have converted them into houses. One area has been carved into a village, complete with cobbled walkways, a church, bar and street lamps. Remember, all the buildings in the village, including the church, are caves! Follow the road as it climbs up through this valley to find the restaurant "Tagoror", again a spectacular cave with space carved inside for more than a hundred in one sitting with more tables enjoying the spectacular views at the mouth of this cave. Tables and chairs are carved from thick oak trees and the food excellent. Try the set menu (around €10 for 3/4 courses) to sample some superb, traditional Canarian food whilst getting excellent value for money. Getting there - GC1 motorway north turning off the exit before the airport, heading for "Ingenio". Follow this road up through the town of Arguimes and as you arrive in Ingenio, you'll start finding the brown sign posts to "barranco de GUAYADEQUE".
(check out pal for an organised tour there)
| | |
| --- | --- |
| | Horse Riding |
Tel 928 143294 Open 9am to sunset! - Prices €59 / €69
El Salobre Canyon Horse Farm - called "The Black Horse". To get there (not on a tour) driver to El Tablero near Maspalomas. Once there, continue on to El Salobre at the end of El Tablero and continue straight along this road following the signs to "The Black Horse".
The organised tour starts off from the ranch and takes you through the surrounding countryside for 90 minutes. Spectacular, Canarian scenery and amazing views over Maspalomas the highlight. There's some free time round the ranch upon return to have a look round the ranch or dive into the pool! Lunch on the ranch and then back to your apartment by around 14:30 - 15:00.
If you go up there on your own, call first and see what tours are available for that day. I say this as in adition to the organised tours that you can tag on to up at the ranch, there are other routes you can join. For the very in-experienced riders there's a tour out for an hour, more expeirenced riders can go through the countryside with similar riders, following a more challenging route. For the experienced riders you can go through the woods and a little into the mountains. There are riding routes of 60 minutes. 90 minutes and 2 hours.
| | |
| --- | --- |
| | Loro Parque - Tenerife |
Full-Day excursion from 08:30 to 18:45 (Last entry 17:00)
Tel 922 374081 or 922 373841
This is a day trip to the Zoo/Dolfinarium/Aquarium/Botanical Gardens (all-in-one) in Tenerife. Leaving Puerto Rico around 7am and heading to the port in Las Palmas where you catch the ferry over to Tenerife, then head straight to Loro Parque. Amongst the many attractions there are the dolphins and brilliant shows they have with them throughout the day, the new "Planet Penguin", along with the many species of animal exhibitted in the park there. (If you're not coming with a tour operator but want to do this trip, just ask any of the tour reps from other complexes, they'll be happy to book you on with their customers.) Here's my review/ideas for a day-trip or a 2-day-trip
As well as the island of Tenerife, there are day trips available to Lanzarote (go see the volcano "Timanfaya") & Fuerteventura.