| | |
| --- | --- |
| | Playa de las Americas |
Playa de Las Americas started life around 30 years ago as a handful of hotels set around a man-made beach with sand imported from the Sahara. Since then, it's grown to be one of the largest holiday resorts in Europe once combined with the suburbs of San Eugenio, Fañabe, Torviscas and Costa Adeje. It's grown as far as it can to the east as Los Cristianos is now blocking it's way in that direction. So the developement is well underway to the west and upwards towards the TF1 motorway that takes you up to the north of the island.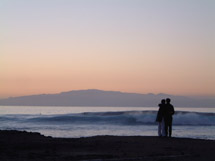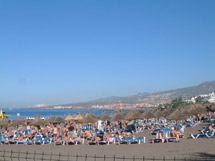 Situated at the southern end of the west coast where the climate is the best on the whole island. There are several, blue-flag beaches along the coast, watersports, a vast choice of restaurants and bars and arguably the best nightlife in the Canaries. There's the Octopus Water Park and dolphinarium, crazy golf, 10-pin bowling, a nearby zoo There is now also a big balloon that takes you high up in the air and gives you an aerial view of the coastline.
There is a new golf course open between Playa de Las Americas and neighbouring Los Cristianos - "Golf Las Americas". A part of Las Americas pleasant to visit is Puerto Colon, the boating marina. It's a modern, purpose-built harbour with a selection of shops and restaurants and of course, some nice yachts.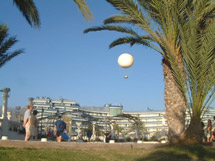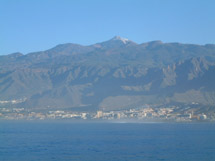 Night time is an experience in "Las Americas" where just about anything goes, especially in the summer months from mid June to mid September. The place to head (or avoid - depending on what you're looking for) is the central stretch of "Veronicas". this is where you'll find the best club nights and streets packed solid with huge crowds of revellers until the early hours of every morning. Internationally renowned DJs are flown in for special club nights hosted by such greats as Clockwork Orange, Cream and Miss Moneypenny's. Top tunes are played in all the bars there as well as the clubs. Hold on to your wallet though and make sure you can hold your booze as it really can get very rowdy. Start off in the area known as "The Patch" until you're ready for clubbing then a couple more drinks at Veronicas.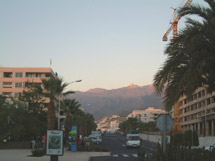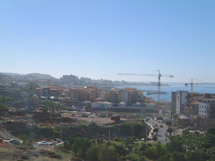 Away from Veronicas there's no shortage of bars offering more family-orientated entertainment. I started to count how many impersonators were performing to give you an idea and lost count after about 50, some are pretty good actually but the atmosphere makes it worth while too. Plenty of karaoke places by the way too.
There are also shows to go and see and enjoy such as the medieval night (knights, jousting, sword-fighting etc), the Spanish ballet and flamenco extravaganzas, a classy soul and Motown night with excellent American singers and two casinos are other alternatives to boozing.