Marina Suites - 4 star Apart-Hotel



Everybody wants to know what their hotel, villa or apartment complex is going to be like and this is the question I've been asked the most. Try and use the general guides on this page for a description of your complex.
The accommodation/complexes here usually don't have individual brochures, though the larger and newer ones do have websites. Generally they all follow a very similar standard, depending on the rating. The ratings I am using are ratings that the tour operators give the complexes. Many of the complexes have their own restaurants and other services and facilities that you would find in an hotel.
The only 5 star hotel near Puerto Rico is the Sheraton Hotel 10 minutes away on EL Salobre golf course. The best choice for 5 star hotels are all in Maspalomas/Meloneras and the capital, Las Palmas. One of my favorites though is not far from Playa del Ingles, it's the Melia Tamarindos in San Agustin. Other 5 star properties in or near Puerto Rico are all "holiday ownership" resorts.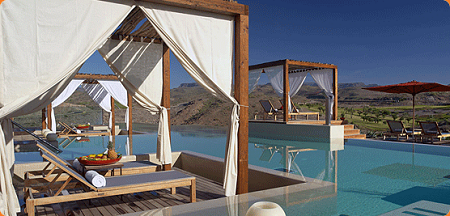 Sheraton Hotel - El Salobre

The new hotels at Amadores Beach include the huge and luxurious 4-star hotel Gloria Palace Amadores & the 4 star plus Gloria Palace Royal and the 4 star Riu Club Vistamar hotel. In addition, there are time share properties being built here.
An alternative to a 4 or 5 star hotel but still having a "luxury" holiday is a villa. It can often work out cheaper than a luxury hotel, especially if you are a family or small group. Many new and very luxurious villas have been built recently in the south, especially around Amadores and Salobre Golf.
Next the 4 star places; over the last few years, quite a lot of development has been taking place around the south of the island and most of the new (and fabulous) hotels and apartment complexes that have appeared are 4 star.
The new hotels at Amadores Beach include the huge and luxurious 4-star hotel Gloria Palace Amadores & the 4 star plus Gloria Palace Royal and the 4 star Riu Club Vistamar hotel. In addition, there are time share properties being built here.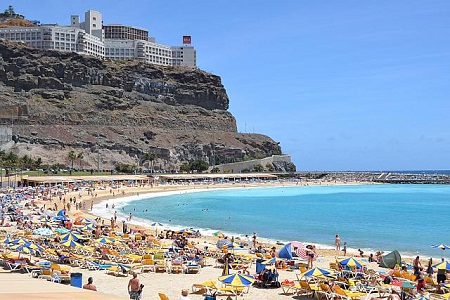 The Riu Palace Vistamar - Amadores
In Puerto Rico they are Marina Suites, Morasol Suites. Elsewhere the "Meloneras" area has a lot of nice, new four star hotels. Personally, I would prefer some of the new 4 star hotels than the older 5 stars, obviously they are immaculately maintained because they are new, they are in fantastic locations by the beach and often with the best views. They can be a bit pricey during the busiest times of year (Christmas, many of the winter months) but consider having a holiday in May or June when the temperatures are already around 30C by day by the pool and the lowest rates of the year are offered. So, expect 24 hour reception, daily maid service, room service, on-site restaurant and shops (including mini-supermarket), baby-sitting service, pool, bar and some form of onsite entertainment and activities ranging from tennis courts and organized pool games to cabaret entertainment in the evening. (Entertainment varies between properties). There will be on site security (24 hours) in some form as well. Aparthotel accommodation will comprise of separate bedroom and bathroom, a lounge and a spacious, well equipped kitchen area with cooking facilities and a fridge, telephone, television and your own balcony with seating and a table out there to0. If you can check when the property was built, pick anything constructed/opened around the year 2000 onwards, as mentioned all of the new 4 star properties are fantastic.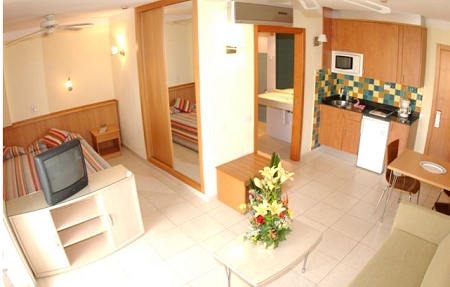 A rfurbished 3-key apartment
So, your accommodation in a 3 star (2 keys), maid service may be 3 or 4 times a week rather than daily and you're not likely to have room service. Standards of furnishing in the apartment should be quite high still with apartments very well maintained. You'll still have a pool with either a small restaurant or pool bar serving breakfast, lunch and dinner. Reception is usually open 24 hours but in some complexes it closes over night. Again, there is some form of security on sight. You're likely to have onsite entertainment but you have a bigger choice for entertainment around the resort. Safe facilities will be available and you'll have a private balcony with its own seating and table. A TV will be in your apartment but not always your own phone. The majority of complexes here by the way are rated 3 star. Again, check out when the property was built. Many new 3 star properties are pretty impressive with additional features/standards you would normally expect from a 4 star.
In a 2 star (1 key) you'll still have an apartment with a separate bathroom and separate bedroom. The lounge will have a TV but there won't be a phone in your apartment, although one will be on the complex. You'll have similar cooking facilities to a 3 star property, including fridge although the kitchen area is usually quite small, the priority of space being aimed at the lounge area. The standards of furnishing will be pretty basic and minimal but always very clean and well maintained. Even most 2 star properties have nice pool facilities with a pool bar serving meals and snacks throughout the day. The reception hours will be limited, usually to mornings only. There'll be safe box facilities and maid service is usually two or three times during the week. Your private balcony will have seating and a table. I don't think there are any 1 star but correct me if I'm wrong!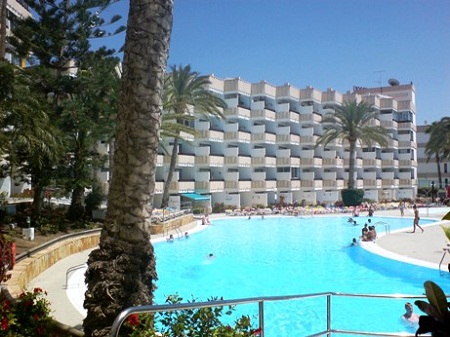 Common features to all complexes, whatever their rating - the voltage here is 220 and the sockets are 2 prong. Adapters and converters are sold in most shops. Few complexes provide either toasters or kettles with their kitchens. These may be available for hire from your reception. There will be a private swimming pool, which is cleaned on a regular basis. Launderettes and dry cleaners can usually be found in the "Centro Commerciales". Most complexes have TVs in their apartments, often linked to Satellite systems for channels from all around Europe and the local radio have many stations broadcast in various languages, the local English station being Kiss FM on 90.6 FM.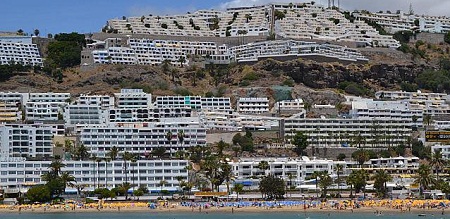 Puerto Rico is built into two, steep hills and it is common for an apartment complex to cover several levels of a hill meaning you have lots of stairs to and from your apartment. If you have problems with stairs you'll need to ask in advance (at your travel agent) if there's a lift to get you to the level of your apartment or ask to be on a level where you won't have to use stairs.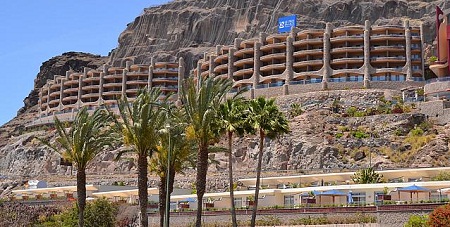 Amadores (Playa Amadores) is the newer beach of Puerto Rico and all the hotels around that area are new and much better quality and standard than most of the older properties around Puerto Rico. There are quite a few hotels on the lower level, very close to the beach but some quite high up and a steep walk getting up there.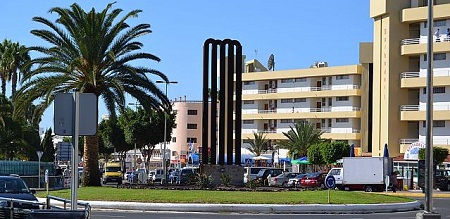 Playa del Ingles is huge and densely populated, second largest holiday resort in Europe so offers a great choice of accommodation from 4 star hotels to small complexes of Bungalows but mainly larger apartment complexes. Very much on the flat so easy to get around and regular bus services as well as plenty of cabs take you from one side to the other.

Maspalomas (neighbour to Playa del Ingles) is equally as large a resort though far fewer complexes and a much quieter feel about the place. Lots of smaller apartment complexes and bungalows over most of the resort but that part nearest the beach and lighthouse offers 4 and 5 star luxury hotels. A couple of hundred meters further south of the lighthouse is Meloneras where more luxury hotels and duplexes are being developed.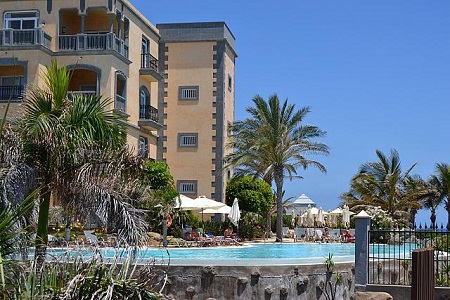 Meloneras is really the new part of Maspalomas and all the hotels there are new and a very good standard. Some of the top hotels on the island are there and it's a nice walk along the prom to either Meloneras beach on one side and Maspalomas beach and dunes on the other. Loads of shops and restaurants around the area.

Mogan is a very "up-and-coming" resort and developing fast as far as accommodation choices go. Cordial have a very nice 4 star luxury hotel and adjacent apartment complex but all the three star and private holiday apartments there being rented out are just as impressive for standard of accommodation. Mogan is the place to go if you're looking for peace and quiet, ideal for couples, all on the flat so no hills or steps unless you stay in the small old town.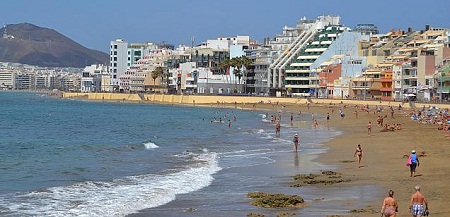 Las Palmas - capital city of the island and one of the largest cities in Spain. The climate there is an "eternal spring" - always around 20-25C both in winter and summer (generally) so still beach weather but not as hot as the south. It's a Spanish city so the place to go for culture, history, museums, theatre.. and to avoid the mass-tourism. Whilst the south of the island is not so noticeably Spanish, Las Palmas definitely is. The nicest place to stay in the city is along the Las Canteras Beach or in the city center there's the 5-star Santa Catalina Hotel.
Most bedrooms will have twin beds so be careful, make advanced requests if you're expecting one large, double bed. Kitchens in bungalows/apartments usually have desk-top cookers, no ovens nor grills but occasionally (not often) a microwave. Don't be afraid to ask at reception for extra pillows, extra blankets or anything else you might like to have in your accommodation that isn't already there. Reception staff here are multi-lingual and in the main, very helpful. Ask them for advice, information or help and you should be surprised at how forthcoming they can be. Apartments here seem to have balconies with table and chairs as standard.
Package Holidays
The travel industry has changed considerably over the last 5 years or more, especially here in the Canary Islands. When you know the dates you want to travel, check out flight prices first. If they seem pretty reasonable then you will no doubt find it more affordable to book your holiday "A La Carte". Make sure there's a choice of places for accommodation, book your flights first then go back and book your accommodation (the same day! do not leave it expecting the prices to come down as they usually don't, accommodation here fills up pretty fast much of the year). You can even book airport transfers. If the flight prices are expensive or there's hardly any choice of accommodation then you are going to be better off booking a package holiday with one of the major tour operators who "bulk buy" in advance. Many hotels and apartment complexes take bookings direct from clients but often you can get them cheaper going through an accommodation specialist.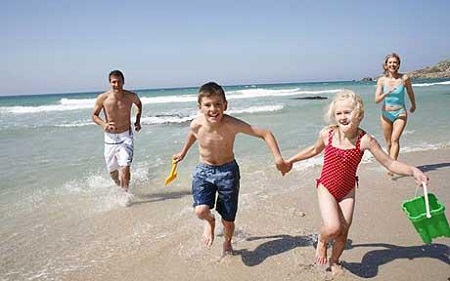 The main tour operators here are MyTravel, Thomson, Thomas Cook, First Choice, Direct Holidays, Cosmos, Spies, Sunwing, Tjoereborg & Ving & Club 18-30 in the summer, so ask your travel agent for their brochures. In some resorts your package will include meals and your holiday rep will have arrangements with many of the excursion companies here to enable you to receive either lower prices, extra items and services included on the excursion or free transport.
Book well in advance if you're planning to travel Christmas/New Year, towards the beginning of the year when it is carnival season, Easter and school holidays. These are the busiest times of all though high season here is really all year round due to the climate.
Chances are the accommodation you've booked or are interested in has a thread already going on our forum. We have one of the busiest holiday forums on the Internet with a lot of members who live here so if you can't find the info there you need, post a new reply and I'm sure you'll get your answer. Use the search option first to find the thread already running, rather than starting a new one if possible.