YOU MUST ENSURE THAT EVERYTHING YOU BUY HERE IS WITHIN
YOUR DUTY FREE ALLOWANCE
200 cigarettes or 50 cigars or 250g smoking tobacco;
1L spirits over 22% or 2L spirits under 22%,
2L sparkling wine and 2L of any other wine.
£145 worth of other goods including gifts and souvenirs.
60mL perfume, 250mL eau de toilette

EXAMPLES OF PRICES IN EUROS
Benson & Hedges
22.00
Camels
20.00
B & H American Blend
12.00
Viceroy
8.00
50g (Samson) tobacco
3.50
Box of 50 King Edward Cigars
31.50
BOTTLES OF SPIRITS

Bells Scotch Whiskey
12.00
Local Equivalent
6.00
Bacardi White Rum
11.00
Local Equivalent
6.00
Smirnoff Vodka (red)
10.00
Local Equivalent
6.00
Gordon's Gin
10.00
Local Equivalent
6.00
BOTTLES OF LIQUEURS

Jack Daniels
15.00
Tia Maria
14.00
Bailey's
13.00
Bottles of Wines (70cl)
range in price from cheap and nasty - 1 euro cheap but very nice €2.00 and anything over €5.00 you start talking a bit of quality. Bottled or canned beers go from around 40c to 80c each, depending on which brand you buy. The local Spanish (cheap - 25c) beer is not too bad by the way.
After shaves & Perfumes
These vary in price as in duty free shops here in Puerto Rico, it's normal to "haggle" over the price. They are cheaper here than Las Plamas airport, also cheaper than airports from the UK so most other places too I would imagine. Any products with an aloe vera base are not only cheaper here but a heck of a lot stronger too.
Electricals
Again, comparing prices here to those in the UK (sorry, I don't know enough to compare them with other countries), cameras and camcorders here are around 20% cheaper, sometimes more, again the prices can be "haggled" over. Other electrical goods are at least 20% cheaper. Don't hand over money until you've compared prices and are happy with your deal, you won't get any kind of refund, whatever the shopkeepers say!! WHEN PAYING BY CREDIT CARD, always check the amount on the slip before you sign it, convert the currency if necessary to ensure it's correct. Once you sign the slip, that's your money spent and if you discover later it was wrong, your credit card company WILL NOT alter the amount, that is up to the establishment and im my experience they don't refund. I only know of one electrical shop in Playa del Ingles that guarantees your money back if you're not happy and it also provides international guarantees for everything it sells, called "Visanta" in the Yumbo shopping center. If you find another one, let me know!!
Some advice on buying electrical goods such as camcorders in Gran Canaria?
SHOPPING - PUERTO RICO

Agua La Perra, Europa and Centro Civico Commercial are the 3 shopping centers we have, Agua La Perra being the smallest, Centro Civico the largest. Each has a good selection of restaurants and bars, at least one supermarket (food prices by the way are similar to those in the UK) and other shops for electrical goods, newspapers, beach items and souvenirs, also car hire agencies and duty free goods.
Centro Civico is by far the largest though and it's only here that you will find the banks, chemist, night clubs and specialist shops such as florists, fishmongers, stationers, travel agency, clothing shops, sports shops, hairdressers, laundry with dry cleaning and you'd need at least a month here to experience all the restaurants and bars in there.
Watch out for some of the tackey souvenier shops and their "rude plastic vegetables and dancing gorillas!" as someone told me about. Remember, some are "tacky souveniers" and what they lack in cost they also lack in durability and quality!!!
SHOPPING - MASPALOMAS
There's two main center worth a wander around. Faro 2 is on the eastern side of the resort, not that far from Holiday World. The second is the Varadero Center (and a few nice shops surrounding it too) close to Faro de Maspalomas. Both have small, nice shops with plenty of local and international designer labels, lots of cafes, chemist and supermarket. Not far from the Varadero center and infront of the Costa Meloneras hotel there's a newly built comercial area with a nice choice of restaurants, a couple of trendy bars and several designer clothing shops.
SHOPPING - PLAYA DEL INGLES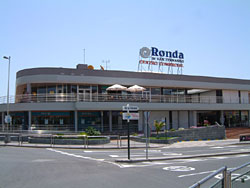 The best of the dozen or so centers in Playa del Ingles is probably the Metro center not that far from the north end of Playa del Ingles' beach (and where all the nightlife is). Really good choice of shops but the owners are expecting tourists so you don't always get the best price or deal, even if you are spoilt for choice. There's a Visanta center there (and another in the Yumbo center) which are the better electrical shops as they give european guarantees and if you don't like something, you can take it back for a refund.
The very north of the resort, at the end of the main street that runs through Playa del Ingles (Avenida de Tirajana) you come to the residential area of San Fernando. That's the better place to head to. As well as the large, local supermarkets (Hyperdino in the Bellavista center boasts the cheapest prices on Gran Canaria) there's a huge choice of every other type of shop also. Avenida de Galdar is a good street to look along and just in front of it there are two commercial centers aimed for residents rather than tourists. A little further back is the Bellavista center with a nice choice of newly opened (summer 2003) shops. At the other side of San Fernando, near Holiday World, on a Wednesday & Saturday there's Maspalomas Market.

General Opening Hours
Banks Monday-Friday 08:30 until 14:30
Saturdays from September to April 08:30-12:30
Post Office Monday-Friday 08:30 until 14:30
(a stamp for Europe costs 50c by the way)
Shops and Supermarkets in the shopping centers 09:30 until 22:00
Car Hire/Hairdressers/Travel Agents 09:30 until 13:30 and 16:00 until 20:00
Markets
Approx times are from 08:00 until 14:00 This is where your skills at Haggling are really put to the test, offer less than half of the first price you're told!
Tuesday - Arguineguín
(the largest market and only 5-10 mins in a cab from Puerto Rico)
Wednesday & Saturday - Maspalomas
Wednesday - Vecindario (go to the Atlantico shopping center afterwards)
Friday - Puerto Mogán
Sunday - Teror! Highly recommended by me.

SHOPPING - LAS PALMAS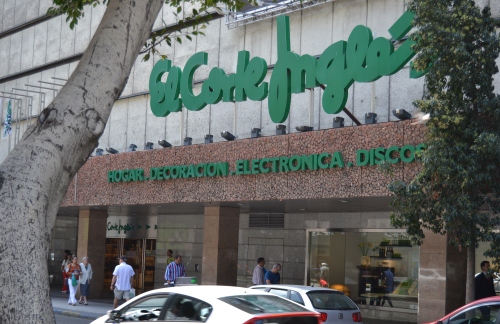 City shopping! Head for el Corte Inglés department store and the surrounding stores on Avenida Mesa y Lopez. Otherwise you have everything under one roof in the huge "Las Arenas", the city's hypermarket with famous brand named shops of all styles and in the other hypermarket "La Ballena". The "Triana" area of Las Palmas (near the bus station) is home to smaller, more traditional shops alongside international shops on both sides of a pedestrian street. Look for the bus (or catch a cab) to the "Siete Palmas" center in the north of the city; another center with loads of shops including "Meida Markt" which must be the best place on the island for buying electricals. Las Palmas is my recommendation if you want to spend the day just shopping. You'll find most tour operatours run a "Las Palmas Shopping" trip getting you there and back on board an air-conditioned coach for a price similar to the public bus service. The coach will drop you off at Triana, then the main department store in the city and later, at Las Arenas.
SHOPPING - VECINADRIO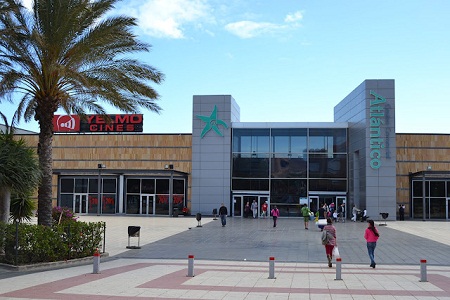 A residential, Spanish town located just off the GC-1 motorway, 10 minutes this side of the airport. The main street in the town is the longest street of shops on the island. A good 30 - 45 minute stroll if you don't stop at any of the shops but believe me, you'll end up looking in half of them. If you don't fancy that idea then just head straight to the shopping center "Atlantico" that opened there October, 2000. There's a huge amount of shops, cafes and restaurants all under one roof. Even the posh shops are very reasonably priced.
Las Terrazas & El Mirador - Telde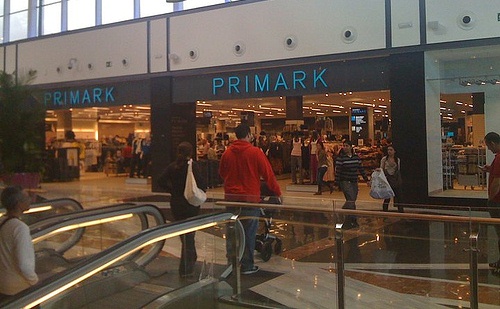 I should have mentioned this first but if you've hired a car for the week then forget everything you read about shopping so far (other than go to Mercadona), don't buy anything in the south instead go up to the largest area of shops in the country at Las Terrazas and Opposite at EL Mirador.
On the north-east coast, about 15 minutes drive north of the airport. This is a new "retail outlet" center specialising in seconds and is where you'll find some real bargains from stores such as Nikki Chollo, MediaMart, Zara Discount, Factory Outlet, Foster HollyWoods, Amichi, Mango, El Corte Inglés de las Oportunidades, Intersport, Calzados Navarros, Desigual, Calvin Klein, Numero 1, Optifactory, Domingo Alonso, Levis, Pepe Jeans, Primark, Pull & Bear, Blanco, New Yorker, Massimo Dutti, Bershka, Stradivarius, Oysho .....

If you are driving up there, note that 5 minutes before you arrive there's an Al Campo hypermarket, Decathlon sports shop and Leroy Merlin.
If you're still left with any questions about shopping, ask at the message board