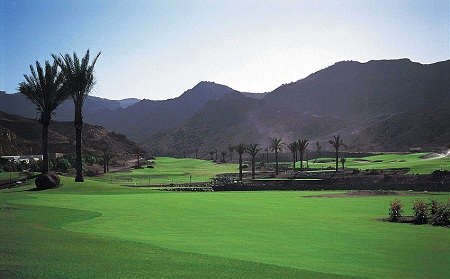 Golf
There are four courses, at present, on Gran Canaria
Maspalomas - telephone 928 762581 fax 928 768245
Bandama - telephone 928 351050 fax 928 350110
El Salobre - telephone 928010103 Fax: 928010104
El Cortijo - telephone 928684890 Fax: 928682940


For prices/reservations, call them direct. They can fax you a booking form which you can complete and return to ensure you have a booking once you arrive on the island.
More new courses are on their way 9 and 18 hole course close Puerto Rico at "Taurito" with the 9 hole course complete and the 18 hole due some time early in 2003. Also scheduled for late 2003 is a second course in Maspalomas and further courses are being planned in the north of the island, one in Las Palmas city and a second further north close to Arucas.
El Cortijo is the newest course and was home to the Spanish Open in 2002. There's a price panel below to give a general guide as to the costs at the other courses. All are pretty much the same in price as they have a "gentleman's agreement" not to have price-wars against each other, rather stick to the same cost per round/item.
Clubs offer excellent facilities included onsite hotel accommodation (except El Salobre - saying that it looks like they are building an entire golfing village in the surrounding hills so that will no doube change/be ready soon) with luxury facilities. There's unique rough created from Canaria flora, mimosa, palm and pine trees, greens well protected by bunkers, practice driving ranges which are floodlit, as are further practice putting greens, professionals on hand for tuition, caddies or trollies available for hire, duty free golf shopping and virtual reality video training.
REAL CLUB GOLF - BANDAMA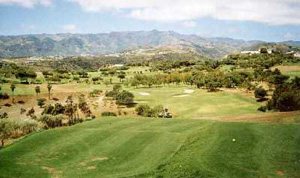 Real Club de Golf (Par 71) is located in Bandama, 15 minutes away from the island's capital, Las Palmas and is Spain's oldest golf club, founded in 1891 with the new 18 hole course designed by Mackenzie Ross, as was the course in Maspalomas. During week-ends and holidays, the course is reserved for members only.
CAMPO GOLF - MASPALOMAS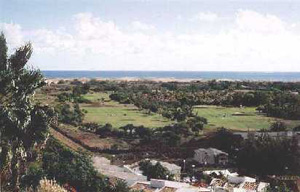 Maspalomas' club de golf (Par 73) is located close to the sand dunes and in a nationally protected area of the island, a nature reserve is also close by.
SALOBRE GOLF COURSE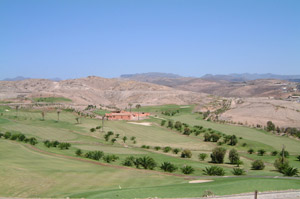 This is the a very new course on the island, fully opened November 1st 2000. Just 10 minutes drive east of Puerto Rico, the first exit of the motorway. The surrounding area is still being developed so expect something spectacular once it's finished; meanwhile, breathtaking views are already there.
List of (average) Fees - in Euros
Green Fee 18 holes - 48.00
Cars/buggy - 30.00
Green Fee junior (under 18 yo) - 24,00
Voucher of 4 games - 168.00
Voucher of 6 games - 228.00
Voucher of 12 games - 420.00
Voucher of 30 games - 841.00
Driving Range - 2.00
Practice balls (40) - 2.00
Golf Lesson per 1/2 hour - 19.80
Putting Green - Pitching - 2.00
Trolley - 3.00
Club Rental (1/2 set) - 9.00
Green Fee, 9 holes - 24.00
Green Fee, 9 holes (junior) - 15.00
Bag Custody (1 week) - 1.80