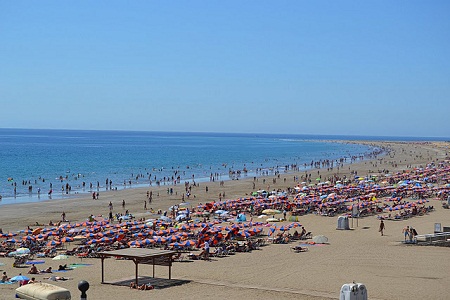 Playa del Ingles, Gran Canaria's largest holiday resort, the second largest resort of its kind in Europe in fact (after Benidorm). It's a place to get lost in, an ideal resort for you if you're travelling with a group of friends perhaps, or a couple looking for plenty of action by night after days lazing on the beach or by the pool. During the summer holiday period of July and August it's very much the ideal place for "young fun" or "18-30" style holidays. Known for its beach and nightlife, it proves ideal for the younger crowd during the summer. For the rest of the year it proves popular with everyone, all ages and all nationalities. The mix of people is mainly made up of German and English but the mix of Scandinavian, Dutch and other European nationalities is very much present too.
Unlike Puerto Rico, there's no mountains to conquer in Playa del Ingles. Very much built on one level with major bus routes passing through town, it's an easy place to get to and around. Maybe the hardest journey you'll have to make is from your apartment or hotel to the beach. The bus or cab only goes so far and from there, a large part of the resort is a one mile walk from the sea, some parts the more direct route is actually accross the sand dunes. Obviously, choose your footwear wisely before you set off on what's more of a daily pilgrimage for hundreds of people staying in Playa. Hundreds go the other way round, heading to the Annexo II center then walking along the beach until they've found their favourite spot.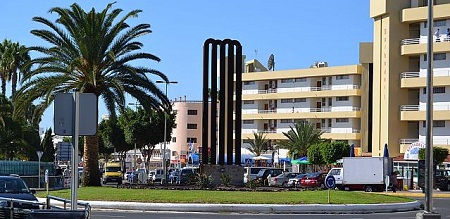 Playa del Ingles is between two smaller resorts, Maspalomas and San Agustin. Together, they share the same beach 8km long and more than 3km wide in places. The area nearest Maspalomas is Sand dunes whilst the area nearest San Agustin is just a few yards from the sea itself. As you walk along the shore-line, you'll notice that sunbathers section themselves off from each other. There's a family section, a mixed adult section (nudist), a mixed adult section (a bit too shy to take it all off) and a gay section (nudist and too shy mixed together). Cabin-hut style bars and medical centres are never far away but there's nowhere to get any food away from the Annexo II center so take a picnic or eat like a pig before you go down there.
At the beginning of Playa del Ingles beach (where you find the Annexo II center), you'll also find the water sports centers. Plenty to do and for an idea of prices ...
Jet Ski for 1 = € 25 for 20 minutes, Jet Ski for 2 = € 30 or € 40 (depending on the power) for 20 mins.
Pedalo (for 4 people) = € 15 for half an hour, banana-boat ride is € 8 per person. There's also paragliding and even skydiving available from there too.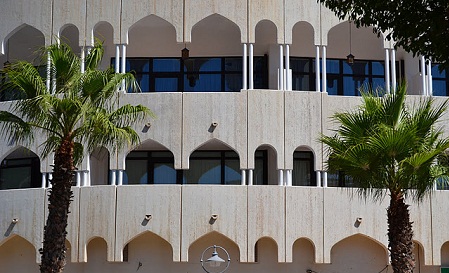 Accommodation - what a choice! Hundreds and hundreds of apartment complexes from 1 to 4 star, a huge choice of hotels too, from 2 to 5 star. In fact, passing by Playa, it seems a bit of a concrete jungle from all the apartments and hotels they have there. There's a street map showing many of the apartments here. There are also quite a few bungalows and private villas set along the quieter streets of the resort.

COMMERCIAL CENTERS
I think there's 12 in and around Playa del Ingles. Each centre houses a good selection of restaurants, bars and shops as well as other services such as banks, supermarkets, money exchange bureau's, amusement arcades....... Head to the Kasbah centre for the better choice of clubs, the Yumbo centre for the gay scene and gay nightlife. Head to the north of the resort and you'll find San Fernando, a better area for shopping (very good choice and prices). If you need more information than I've got here, maybe try to post a message for more ideas and feedback from people who've been there.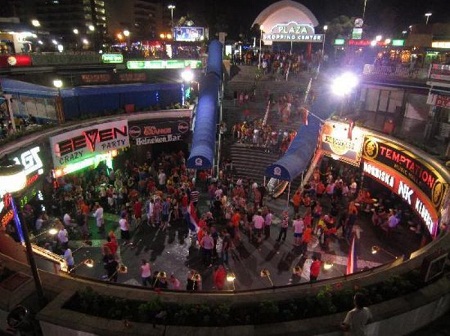 Getting to Playa del Ingles from the airport by the way - by taxi will cost you around 35 euros or you can get the number 66 bus from just outside the arrivals hall at the airport. It runs every 15 minutes past the hour from 07:15 until 22:15. Puerto Rico to Playa is 15 minutes by cab, 17 euros or 30 minutes on a number 1 or 32 bus, each running every 20 minutes and costing 2 euros.
So, the commercial centers are generally the places to go for restaurants, shops, bars - nightlife and night clubs. Each has other facilities to offer from crazy golf to bingo, night clubs to kiddies clubs. Common to all centers are a selection of bars, restaurants, souvenier shops, supermarket and plenty of cash-points if not banks.
The Agua Roja is the "Irish Center", the Yumbo is the Gay Center, the Kasbah / Plaza / Metro is where all the nightlife/clubs are and I guess the rest are just general centers rather than having anything specific about them.