Maspalomas can be found a 20 minute drive/bus ride east from Puerto Rico, on the south east coast of Gran Canaria. Costs around 15 euros in a cab. Famous for it's sand dunes and the length of its beach (stretching a staggering 6km), the resort has much more to offer than a day by the sea, although if that's your plan, this is your place! If you're traveling by bus from Puerto Rico you'll catch the #1 or #32 service. If you want to arrive straight at the beach without walking across the dunes, change busses anywhere in Playa del Ingles for one going to "Faro". Alternatively, there's a limited service to faro direct, it's the number 70 service that goes to Palmitos Park, trouble is the last one leaves at 12:45! The other end of the beach is Playa del Ingles and the Anexo II shopping center so get a bus to Playa del Ingles then ask a cab to take you to the Annexo II.
THE DUNES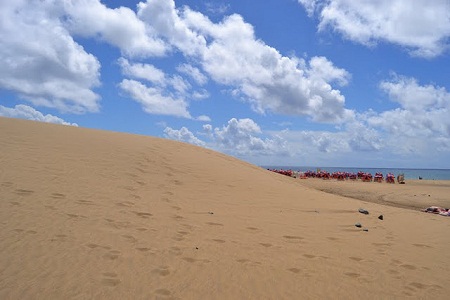 So, nothing but golden sands from Faro at it's south past Playa del Inglés & San Agustín to its north with a backdrop of sand dunes and a gentle surf to swim in, this is my favorite beach on the island. Faro (means lighthouse) by the way, is the southern most point of Europe! Thanks to the length of the beach here, it seems to have been split into five main sections for bathers. If I start with the first closest to the lighthouse in Faro and last/fifth at playa del Ingles, these are popular with families and good for the kids as the waters here are the most shallow. The second and fourth parts along aren't as suitable for kids as they are better known as semi-nudist beaches, although nude bathing is far from compulsory there. Between these and the third part along, lies the section most popular for the gay community and again fairly popular for nude sunbathing.
At each of the main areas you will find both a medical centre and a bar, everything you'd need really for a day out in the sun! There's also sunbeds and parasols for hire. Lifeguards patrol the beach here and much less frequently there are police patrols, passing perhaps once per hour but are there more as a deterrent against theft than anything else.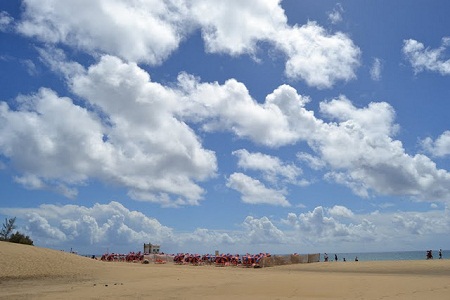 Imagine a desert where all around the only thing you can see are mountains made of sand, dunes so high they block your view of anything other than, well sand! The views around it's outskirts are breathtaking and crossing them is an experience though hundreds do daily to get to the beach from the many hotels and apartments from the other side. It really does look like something out of a film. They begin just a few yards from the sea and stretch back around 3 1/2 km, covering a length of 4 km. Between the dunes closest to the beach is another good and popular area for nude sunbathing. Further back & amongst the bushier areas to the south is an area very popular for gay nudists. The vast majority of the dunes remain almost deserted and the views really are as shown in this picture.

CAMPO GOLF

Maspalomas has an area of apartments, bungalows and hotels around the main golf course located there. This area is known as "Campo Golf" and is the area of Maspalomas closest to the sand dunes too. On the far side of Campo Golf is Playa del Ingles so it kind of separates Maspalomas from Playa and there's a main commercial centre there, the "Faro 2".
Holiday World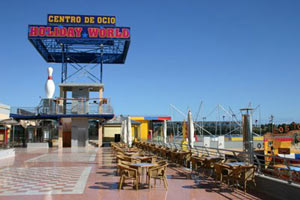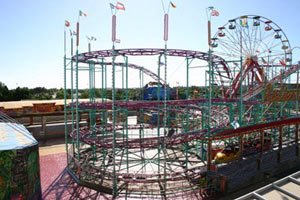 Holiday World is a whole leisure area with a smaller fare then other attractions such as a bowling alley and a lot of other stuff I can't quite figure out yet. Opposite, a five minute walk away is a large park with a boating lake, pony riding, a karting track, childrens playgrounds. There's also the "wellness center" which is a health spa and gymnasium.That part is open throughout the day and the gym looks like something NASA would train people in, very up-to-date equipment indeed and a nice pool area upstairs. Gym pass for the day is €11 and for the week is €25. By the entrance there's an Internet cafe too.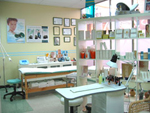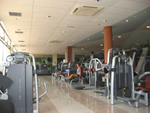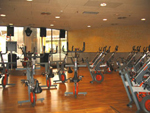 More about the Wellness Center / Gym here
The main attractions are open late afternoon and through the evening then close down at midnight. There's two nightlcubs in there, one is a salsa club and the other (JPM) is billed as the largest club in the Canary Islands so expect to see big name DJs there in the near future. Of course they stay open until the early hours and are already a HUGE hit with the locals that travel from all over the south to party there at week-ends.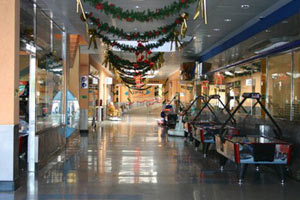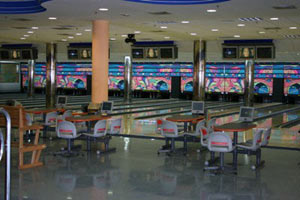 Meloneras & Faro de Maspalomas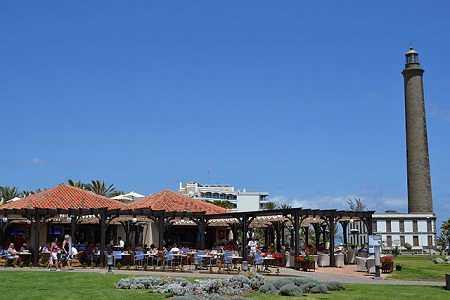 The start (or end - depends which way you're walking) of Maspalomas beach is marked by the "Faro", Spanish for Lighthouse and is the southern most point of Europe on land. Next to the lighthouse is the Oasis commercial area, mainly snack-style restaurants with one or two nice ones thrown in there, some souvenier shops, a chemist and a small supermarket. At the opposite side of this area to the lighthouse is the newly developed area of Meloneras. This is the most trendy and luxurious resort in the south. The hotels here are 4 or 5 star luxury, the self-catering choices are two-story houses or villas with private pools and the shopping is mainly designer labels.
By night, the walk along the sea-front promenade from the lighthouse onwards is popular and a gfreat way to check out the choice of restaurants or bars. When you arrive at the commercial center "Varadero" stop and if you haven't found a bar or restaurant you like there, walk up to the road, cross over and there's a moorish looking building which is another commercial area of yet more restaurants, shops and bars. All very trendy and all very nice! If you lkike night-life the best night-club on the island at the moment can be found a little fuirther along on Meloneras beach - "The Aqua Ocean Club".

Sonnenland
A small resort found adjacent to Maspalomas, furthest side from the beach. The lack of a major commercial center or beach within easy walking distance means that the many apartment complexes and hotels here should provide you with everything you need to enjoy your holiday. Pools and pool-areas are bigger with better facilities, ie bar, entertainment. The other, onsite facilities will also be better than in town, expect to have a restaurant, both day and evening entertainment for adults and kids and things like games rooms. Many of the complexes own their own bus service that runs to and from the beach all day as this can be a good 30 minutes brisk walk away. It's the same distance walking to Playa del Ingles but a cab to either shouldn't cost more than £2 and there's a public bus service all day to both the beach and Playa del Ingles.
Camel Safari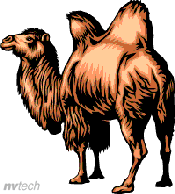 So, we have desert, we have Arabic and so we have camels too! Camels are used to carrying a load of anything from 250kg to 700kg, walking from 4-6kmph, so a camel carrying two passengers is used to carrying such a weight. This then is how the saddles are arranged, for two riders to be carried on each camel. Camels can gallop at speeds of 35kmph over a distance of 10km before slowing down however in order to keep their body heat down, will always opt to walk, but then so would I if walking through sand dunes in high temperatures. Journey time around the dunes is about 20 minutes and the walk is usually as part of a caravan. Prices start from around €9 for a short trip into the dunes. For around €30 you get a longer journey, nice food and a visit to the camel park (with baby camels!!) Camel rides can also be enjoyed at Fataga.