Tenerife Accommodation
Everybody wants to know what their apartment complex or hotel is going to be like and this is the question I've been asked the most. To see what other people have written about the apartments they stayed in, along with a review of the resort or area, read the reviews. Also, if you've already been to Tenerife or remember for when you get back, tell me what your accommodation was like - what it had or didn't have, was it spacious or small, tell me the good and the bad! I can add it to my reviews and it helps me a lot to answer everyone else's questions.
A huge amount of the accommodation around Tenerife is self-catering apartment complexes. They usually don't have individual brochures but more importantly, they all follow a very similar standard, depending on the rating. The ratings I am using are ratings that the tour operators give the complexes. Many of the apartment complexes have their own restaurants and other services and facilities that you would find in an hotel.
5 STAR hotels
Most of (all of the best) 5 star hotels are in the south of the island, in and around Costa Adeje. Not sure which is the best of the best but it's between the Abama Golf Resort, Gran Melia Palace de Isora, Bahia del Duque & the Regency Country Club. These are some of the best hotels in Europe as well as Tenerife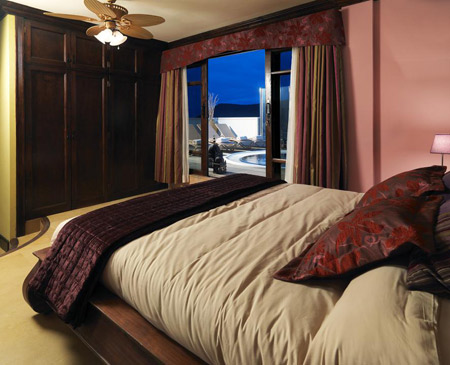 4 STAR complexes
The big plus with 4 star rather than 3 star is the facilities and service you'll have access to, although the standards of accommodation are fairly similar in quality and size. 24 hour reception, daily maid service, room service, on-site restaurant and shops (including mini-supermarket), baby-sitting service, pool, bar and some form of onsite entertainment and activities ranging from tennis courts and organised pool games to cabaret entertainment in the evening. (Entertainment varies between properties). There will be on site security (24 hours) in some form as well. Accommodation will comprise of separate bedroom and bathroom, a lounge and a spacious, well equipped kitchen area with cooking facilities and a fridge, telephone, television and your own balcony with seating and a table out there too. 4 stars either have fantastic views over the ocean or are located right next to it! You'll have a safe box somewhere within the apartment.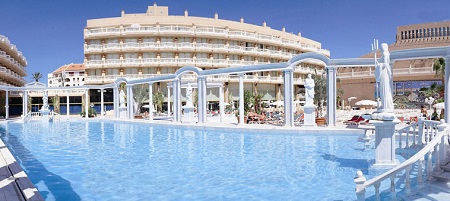 One thing to watch out for on Tenerife is the difference in standards between the north and the south. In my (and others) opinion there are a lot of 4-star hotels in Puerto de la Cruz & Santa Cruz that are lower in standard, service and maintenance than three star hotels in the south. There was a refurbishment boom in the north about 20 years ago and little has been done since!
3 STAR complexes
So, your accommodation in a three star will be very similar to that in a 4 star (so read above). Maid service may be 3 or 4 times a week rather than daily and you're not likely to have room service. Standards of furnishing in the apartment should be quite high still with apartments very well maintained. You'll still have a pool with either a small restaurant or pool bar serving breakfast, lunch and dinner. Reception is usually open 24 hours but in some complexes it closes over night. Again, there is some form of security on sight. You're likely to have onsite entertainment but you have a bigger choice for entertainment around the resort. Safe facilities will be available and you'll have a private balcony with its own seating and table. A TV will be in your apartment but not always your own phone.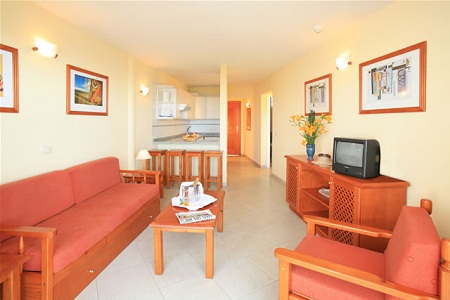 In a 2 star you'll still have an apartment with a separate bathroom and separate bedroom. The lounge will have a TV but there won't be a phone in your apartment, although one will be on the complex. You'll have similar cooking facilities to a 3 star property, including fridge although the kitchen area is usually quite small, the priority of space being aimed at the lounge area. The standards of furnishing will be pretty basic and minimal but always very clean and well maintained. Even 2 star properties have nice pool facilities with a pool bar serving meals and snacks throughout the day. The reception hours will be limited, usually to mornings only. Your apartment will have its own safe box and maid service is usually two or three times during the week. Your private balcony will have seating and a table. I don't think there are any 1 star though if so, you're still likely to get a private pool for the complex! Service and facilities would be "none"!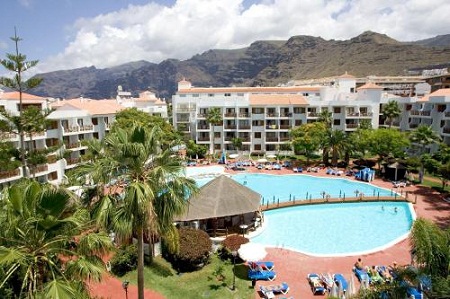 Common features to all complexes, whatever their rating - the voltage here is 220 and the sockets are 2 prong. Adapters and converters are sold in most shops. Few complexes provide either toasters or kettles with their kitchens. These may be available for hire from your reception. There will be a private swimming pool, which is cleaned on a regular basis. Launderettes and dry cleaners can be found in or around the shopping area. Most complexes have TVs in their apartments, often linked to Satellite systems for channels from all around Europe and the local radio have many stations broadcast in various languages.
Most bedrooms will have twin beds so be careful, make advanced requests if you're expecting one large, double bed. Kitchens usually have desk-top cookers, no ovens nor grills. Don't be afraid to ask at reception for extra pillows, extra blankets or anything else you might like to have in your apartment that isn't already there. Reception staff here are multi-lingual and in the main, very helpful. Ask them for advice, information or help and you should be suprised at how forthcoming they can be. Apartments here seem to have balconies with table and chairs as standard.
Hotels
The main difference between hotels and apartment complexes would be the accommodation itself, a bedroom rather than apartment, along with the standards of service and maintenance being much higher. All the usuals such as pool, restaurant, bar, room service and usually air-conditioning should be expected, along with smaller differences such as a phone in the room, satelite TV, probably a health-club/gym. Hotels are much better staffed than apartment complexes so if you really wanted to be pampered and in more luxurious surroundings go for an hotel. Otherwise the apartments are a more spacious option and aparthotels can often offer the same or more facilities than those of an hotel. In addition, apartment complexes don't offer luxury standards but Tenerife has a lot of 5 star, luxury hotels to offer around the island.
Villas
In general, quite a range - from small, 1 bedroom (more like a bungalow) to luxurious 4 and 5 bedroom mansions! Locations all around the island - in a resort, by the beach or away from it all and rural in the countryside. Obviously, the price you're asked for will be the guide here though most tour operators will also grade villas with their own ratings. Most comprise of living room, separate kitchen, separate sleeping accommodation, separate and/or ensuite bathrooms and a garden area with pool. Kitchens are well equipped with everything you need (unlike apartment complexes!!) Villas are usually contracted out to tour operators so you have a rep to look after your needs nad provide information and is your contact with the owners/maintenance should anything go wrong or you need any extra equipment or services.
Rural Accommodation
The most likely place to find rural accommodation for hire nowadays is on the Internet. Generally, you'll have a more "rustic" style villa. "Rustic" could be translated into "more traditional" or just "generally older and not as well kept". Less expensive than a villa you're unlikely to have a pool, rep or staff on hand to help you though someone will be just a call away (usually the owners) and you'd find the same facilities otherwise that you have in a villa. Location-wise, usually away from it all in the countryside. Tenerife also has a Spanish "parador" in the national park of Teide.
Package Holidays
Whilst you may find booking your holiday in Tenerife cheaper by arranging your flights and accommodation separately, check with your travel agent for the price of a package holiday. You can search on the Internet for accommodation only as there's a large amount of reputable companies now advertising there. Charter flights can also be booked easily on the Internet.
In some resorts your package will include meals and your holiday rep will have arrangements with many of the excursion companies here to enable you to receive either lower prices, extra items and services included on the excursion or free transport.
Book well in advance if you're planning to travel Christmas/New Year, towards the end of February when the carnival starts, Easter and October. These are the busiest times of all though high season here is really all year round due to the "climate"