Loro Parque - Tenerife
What can I say - GO!! Combined with a half day looking round Puerto de la Cruz, this was probably the best way I spent a day on all my visits to and around Tenerife. Very big, very impressive and immaculately kept.
Loro Parque is basically a zoo that specializes in parrots. Founded in 1972 the park exists to rescue and protect animals from all over the world, in particular it concentrates on breeding rare species of parrots to prevent their extinction. Many of the animals in the park have been rescued from private owners who kept them illegally and maltreated them. Others were donated by other zoos who believed Loro Parque could offer them a better home. Many were also born and bred in the park.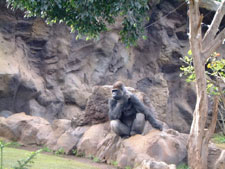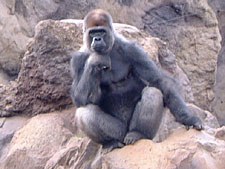 You'll see as you walk around the park that the animals aren't so much caged as living in small versions of their natural habitat. The most amazing example of this is the gorilla enclosure. 3,500 meters square of jungle has been created complete with waterfalls. Loro Park has a bachelor group 6 male gorillas.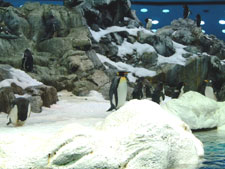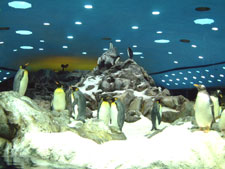 Perhaps the most spectacular exhibit and one of the newest is "Planet Penguin". The arctic has literally been recreated for them with falling snow (12 tons of it per day!). There are king, Gentoo and Rockhopper penguins some of which have been breeding in the park. A glass panel running alongside the surrounding water gives you a view of the penguins when swimming underwater as well (that'll be the penguins swimming underwater, not you). There's a separate exhibit for Humboldt penguins that live in warmer climates around South America. There was a guy in a frog-suite cleaning their enclosure when I was there and all the while he was working, 1 of the penguins was playing with him and wouldn't leave him alone. So sweet, I want one.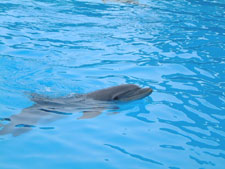 Tiger island and the dolphins are side-by-side, well not quite literally but they live pretty close. One of the tigers was kept and owned illegally. It was given drugs and beaten to keep it docile and beaten so bad, half it's face had been smashed in. It's been given plastic surgery including a glass eye and a sexy-looking girlfriend as well as a nice place to live.
Not much I can say about dolphins that you wouldn't already know other than the show here is the biggest in Europe. Again, they are happy enough here to be breeding.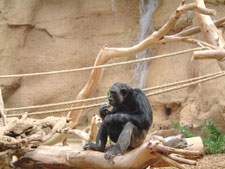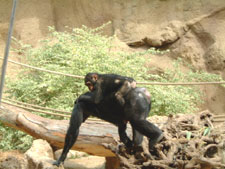 The chimps are another example of animals rescued from private owners keeping them illegally and again have bred since being brought to the park. (Seems to me that most of the animals are at it).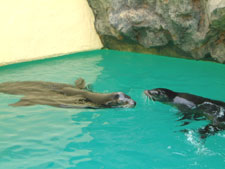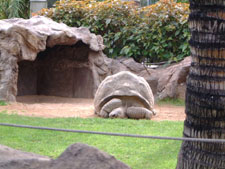 There's a lot more to see around the park other than what I have mentioned. If I started taking photos of all the parrots I would have been there all day and not had the space here to show them all, go and see for yourself. They have the largest collection in the world including a "baby station" where you can go and see the baby birds.