Tenerife Towns
La Oratava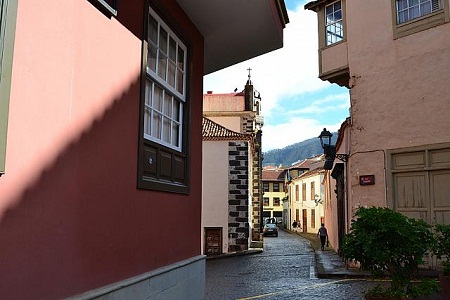 The Villa de la Orotava (pop. 37,000) lies on the banana plantations of the Valley which bears its same name and in the area of the island origionally inhabited by the Guanche's, hundreds of years ago. Unless coming from Puerto de la Cruz, you approach La Oratava from above so you get a spectacular birds-eye view of the town and the La Oratava valley.
The town itself was founded in the 16th century. Of all the towns I visited on the island, this was by far the best for so many reasons; not heaving with traffic, beautiful buildings, parks and squares and amazing views of Teide or down to the ocean from many parts of the town.
Keep heading uphill and you'll find the old historic centre - declared monument of artistic national interest. The Concepción Parish Church is also a national monument. I'm told the buildings are fantastic examples of renaissance, baroque, mudejar (arabic), neoclassicist, electic and modernist. I can verify that, lots of different types and all very nice indeed to look at! Head towards the church in the historic quarter and you'll also find several craft and culture shops/museums to have a good look round.


The town's botanical garden - "La Hijuela del Botánico" has more than 3,000 different tropical and sub-tropical plants from South and Central American, Africa and Australia. Down towards the coast there's three dark-sand beaches - El Bollulllo, Martín Alonso and El Rincón - which are rarely crowded. In the surrounding countryside and plantations there are many walks which lead all the way up to the forests and Teide.
Puerto de la Cruz
Puerto de la Cruz (pop. 33,000) is the main tourist resort of the Northern part of the Island. After La Oratava, this is my next favourite place to see in Tenerife and as they are just a 10 minute drive apart, go and see them both. Puerto de la Cruz actually started life as the Port for La Oratava and just kind of grew. There's a great mix of old and new, fortunately a lot more older and typically Canarian looking buildings than new but saying that, a great choice of new and modern hotels.
There's a lot of green around the city, more "plazas" (Squares) than I've seen anywhere else and a lot of parks and green - the botanical gardens date from 1788. The city is surrounded by banana plantations and bordered by the sea of course, but also the very scenic La Oratava valley and Esperanza forest and beyond that and very much visible, Mount Teide; so a spectacular sight to see as you approach.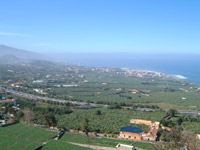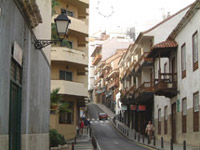 For almost 100 years the city has been a popular tourist destination. There's an endless and excellent choice of restaurants and bars, good night life and the small, natural beaches are of black volcanic sand. There's no reef to protect them from the harsher tides so they are not always safe for swimming but to compensate for this, the internationally renowned Canarian artist César Manrique designed a large open-air seawater swimming pool in the town called the "Lago de Martianez". A very impressive public pool only a few meters from the sea with plenty of room to swim and sunbathe.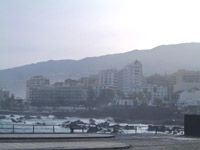 Plaza del Charco in the center is a picturesque and peaceful place to meet, have coffee or during the evenings, watch the street artists that perform there. To the north of the city and the main tourist attraction here you'll find Loro Parque, a spectacular zoo where you could easily spend an entire day.
Santa Cruz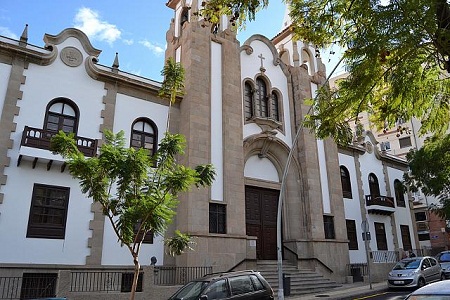 The capital of Tenerife since 1723, Santa Cruz is home to around 30% of the island population, around 210,000 people. It is a typically busy, bustling, modern Spanish town, with wide avenues, narrow shopping streets and a series of suburban residential districts.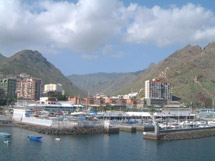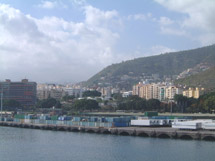 To be honest with you, it's a nice place for shopping, definately worth a visit if you want to do some serious shopping and avoid the tourist-traps of the south. Head for "Calle Castillo". It's also a nice place for getting off the island by boat but otherwise, not my cup of tea. It's very busy - especially with traffic and whilst there's the odd street or two that's a little appealing to the eye, most of them are pretty dull and dwarfed in building work. I love Tenerife and enjoyed all the towns I went to otherwise so it's not a general Tenerife thing, just Santa Cruz isn't my idea of a holiday. There are the odd attractions including monuments, sculptures, museums, art galleries and some nice parks and currenctly under construction down by the harbor is a very impressive auditorium, a bit of a scaled-down Sydney-Opera-kind-of-thing.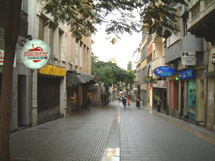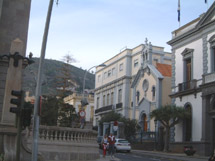 Whilst there's no beach in the city (town?) itself, a few kilometers away there is the mile-long, man-made, golden sands of Playa de Las Teresitas which is popular with holidaymakers and usually crowded with local residents at weekends and holidays.
Icod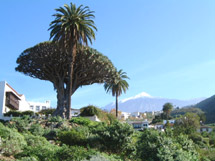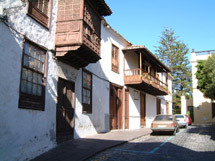 Located on the north coast, Icod is famous for two reasons, it's the island's most respected wine-growing region (it's full name is Icod de los Vinos) and also it has a big, old tree! The tree is a "Dragon Tree" and scientists and locals together have been unable to put an accurate age to the tree, guestimates range from 365 years to over a thousand years. The tree is housed in a small park and you can catch a mini-train that takes you on a quick tour of the town and then to the park, all for about €3 including entrance fee. Close to the park is a butterfly house also worth visiting - The Mariposario del Drago is a tropical garden where hundreds of butterflies belonging to exotic species from all parts of the world fly in total freedom. Entrance is around €5.
The town itself is one of the more typical and older towns of the island, unspoiled by tourism and home to some nice, Canarian restaurants, impressive buildings, bodegas of course and a nice place to shop too! Playa San Marcos is one of the most picturesque beaches on the island, another attractive black sand beach on the coast by Icod de los Vinos.
Las Galletas
A little past the town of las Galletas is the resort of Costa del Silencio. It's a short walk back to the town and well worth it to get a taste of local atmosphere that hasn't been spoilt by tourism yet, although it is well catered for here. The black sand/stone beach is a bit uncomfortable so grab a sunbed somewhere near the small promenade then it's just a 1 minute walk to all the bars and restaurants there. Las Galletas is a fishing village so try the local catch if dining out. Together with Costa del Silencio, Las Galletas offers a good choice of self catering accommodation as well as hotels, the two golf courses Golf del Sur and Amarilla Golf are nearby and it's a 10 minute drive down the TF1 into los Cristianos and then Playa de las Americas. If you want to enjoy the sun of the south but avoid tacky tourism then Las Galletas is a nice alternative.
Los Realejos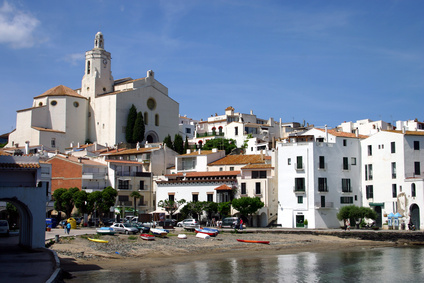 Los Realejos (pop. 32,588) lies beneath the slopes of the Las Cañadas del Teide mountain range. The town is mainly agricultural surrounded by great banana plantations. It also lies on the edge of Puerto de la Cruz so there's a great choice of hotels, restaurants, bars and shops to make it a worthwhile place to visit and/or stay. Worth visiting in Los Realejos is La Concepción Church with it's impressive Baroque Altar and a jasper sculptured Baptismal font, there's the oldest church on the island - the Santiago Parish - constructed in 1498. Los Realejos' beach is a beautiful black-sand beach - El Socorro.
La Laguna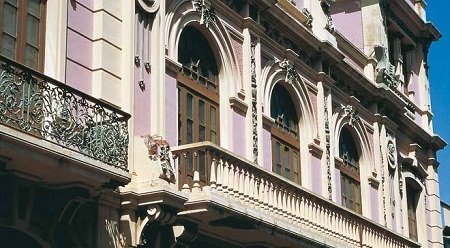 La Laguna (pop. 128,000) is Tenerife's Province second most important city and once the capital of the Island .It is also home to the San Fernando University and the province's Bishopric. The city is also home to many architectural monuments, palaces and traditional houses of the XVII and XVIII centuries. Well worth hunting out are the Cathedral and its museum (dating back to 1515), the Santo Domingo and the Concepción Church and its museum, the Church of the Holy Christ and the San Miguel Chapel. Have a look round the Casa Ossuna Museum as well.