Food & Gastronomy
of Tenerife

Primary produce in the Canaries includes bananas, tomatoes, olives, oranges, fish and pork, these are all cheap to buy if you're cooking at home tonight. Beef is a bit pricey but still affordable. I've always found it easy to get hold of everything I like from home as so much food stuff is imported here from all over Europe, partly because it can't be produced locally and partly to please the tourist trade here who are almost all here self-catering.

Typical dishes include "sancocho" - a salted fish soup, "papas arrugadas" - the local potato which I guess resembles a wrinkled, new potato, usually served with "mojo " sauce, (papas con mojo) a spicy, red sauce. The mojo sauce is popular with a lot of food types here as well as the potatoes. Of course there's the Spanish dishes of Paella (a seafood and rice dish) and "Tortilla" - Spanish Omelette. Primary meats here are pork and chicken whilst in the older and traditional restaurants such as those in the mountains, rabbit and goat (also goat cheese) are popular too. The local wine is "el Monte".. "Tapas" is not so popular in the resorts and is found more in residential towns. Tapas are small dishes, similar to snacks but several together make a very nice and traditionally Spanish meal. As (fresh) locally cought fish is so popular here - I've posted some "fish translations".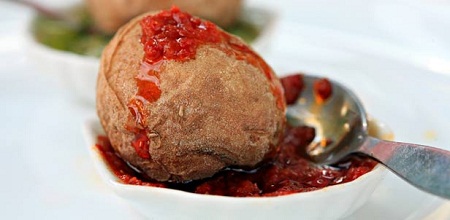 TAPAS DISHES

Salpicon de mariscos a salad of chopped onion, peppers, sweetcorn, crab, prawns and other seafood, soaked in vinegar.
Carne con papas a stew made from beef, vegetables and potatoes and served in a rich sauce.
Ropa Vieja mixed meats served with chickpeas.
Boquerones small white fish (like an anchovy without the salt taste), marinated in vinegar, oil and garlic.
Albondigas small, homemade, slightly spicy meatballs, served in a spicy sauce.
Potage a thick, Canarian soup made from mixed vegetables, often with mixed meats added too.
Carne de Cochino small pieces of fired, diced pork served with a rich sauce.
Carne de Cabra goat meat (similar in taste to lamb although not quite as tender).

FOOD SHOPPING


All the main resorts have very good supermarkets that should have everything you expect and need. Fresh fruit and vegetables, freshly baked bread and pastries and a fresh meat counter, a great choice of duty-free wines, things to help you clean around the apartment and things to help keep you clean. In addition to these supermarkets, many apartment complexes have their own mini-markets. Prices in general are similar to those in the UK. Fruit and veg a little cheaper, canned goods slightly more expensive, "fresh" meat however around 20% more expensive. Bottled or canned beer in the supermarkets cost around 40-60 ptas each by the way.
Something to be warned about in Tenerife, most apartment complexes have hob-style cookers only and no ovens or grills, nor kettles for that matter. As well as the kitchen area in your apartment you'll have a dining table and chairs and usually another table and chairs out on your balcony if you want to dine there instead.
Wine around Tenerife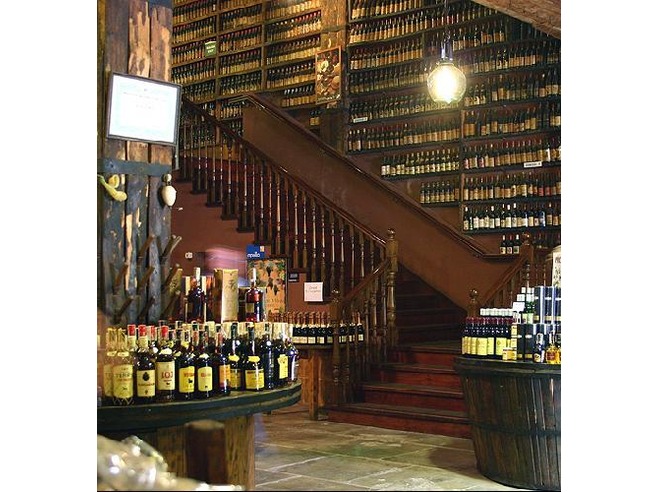 The First Salon of Tenerife Wines was presented in Madrid on 30 March 1998. Tenerife is home to no less than 5 fullfledged DO ("Denomination de Origen") wine producing areas: Abona, Tacoronte-Acentejo, Valle de Güimar, Valle de la Orotava, and Ycoden-Daute-Isora. While DO status is a recent phenomenon - the first, Tacoronte-Acentejo, dates from 1992 - wines have been made here for centuries.
Unique local grape varieties, rich volcanic soil, and a mild climate tempered by moisture-laden Atlantic tradewinds, make for distinctive and attractive wines. It may seem strange that there are so many DO regions on one 2,000 sq.km. island, but the differences in local microclimates produced by the island's rugged terrain and its interaction with the tradewinds, make for a wide variety of growing conditions across Tenerife.
Abona - Situated toward the south on the eastern side of Tenerife, the region's vineyards lie at elevations from 300 to 1,750 meters -where the best quality grapes are grown.
Vineyards: 1,066 hectares
Grape varieties: White (80%) - Listán Blanco, Verdello, Malvasía, Sabro, Bermejuelo; Red (20%) - Listán Negro, Negramoll
Wineries: 7 - Grape growers: 524 - 1997 Production: 370,000 liters
Tacoronte-Acentejo - Situated to the northwest of Tenerife, the region's vineyards lie at elevations from sea level to 1,000 meters. The best developed, largest and oldest wine producing area. This was the fist area in the Canary Islands to win a "Mark of Origin", awarded by the Autonomous Region in 1992.
Vineyards: 1,200 hectares
.Grape varieties: White - Gual, Malvasía, Listán Blanco, Marmajuelo; Red - Listán Negro, Negramoll
Wineries: 42 - Grape growers: 1,483 - 1997 Production: 1,533,000 kilos of grapes
The main producer is "Bodegas Insulares Tenerife" and the main brand is "Viña Norte". 12.5% alcohol content made mainly with "Listán Negro" grapes and can be described as well presented, with a strong, intense, but fresh bouquet, fruity flavor, strong character, goes down nicely leaving a nice and long aftertaste.
Valle de Güimar - Situated on the eastern side of Tenerife, the region's vineyards lie at elevations from sea level to 1,400 meters.
Vineyards: 670 hectares.
Grape varieties: White - Listán Blanco (82.5%), Malvasía, Güal, Vijariego; Red - Listán Negro (13.5%), Negramoll
Wineries: 10 - Grape growers: 540 - 1997 Production: 370,000 bottles

Valle de la Orotava - Situated on the north coast Tenerife, the region's vineyards are situated at lower altitudes, under the more direct influence of the Atlantic tradewinds.
Vineyards: 465 hectares
Grape varieties: White- Bastardo Blanco, Güal, Forastera Blanca, Listán Blanco, Malvasía, Marmajuelo, Moscatel, Pedro Ximénez, Torrontés, Verdello, Vijariego; Red - Listán Negro, Negramoll
Wineries: 21 - Grape growers: 469 - 1997 Production: 1,219,445 kilos of grapes
Ycoden - Duate - This is an area of 1003 Has. of vines (560 registered with the Regulatory Council), between 75 m and 925 m above sea level. It includes the boroughs of San Juan de la Rambla, La Guancha, Icod de los Vinos, Garachico, Los Silos, Buenavista del Norte, El Tanque, Santiago del Teide and Guia de Isora.
If you would like to visit a winery, call and ask...
Bodega El Lomo
Crta El Lomo, s/n
38280 Tegueste (Tenerife)
Tel: Int'l + 34 922 54 52 54
Arrange visits with: Felix A. Rodriguez
Visits: 10:00-17:00 (except Sat & Sun)

Bodegas Insulares Tenerife
Vereda del Medio, 8B
38350 Tacoronte (Tenerife)
Tel: Int'l + 34 922 57 06 17
Fax: Int'l + 34 922 57 00 43
Arrange visits with: Mª Victoria Díez
Visits: Fridays 10-13:00 &16-18:00

Bodegas Monje
Camino Cruz de Leandro, 36
38359 El Sauzal (Tenerife)
Tel: Int'l + 34 922 58 50 27
Fax: Int'l + 34 922 58 50 27
Arrange visits with: Felipe Monje

Union de Viticultores del Valle de la Orotava
Crta Orotava-Los Realejos, km 45
38300 La Orotava-La Perdoma (Tenerife)
Tel: Int'l + 34 922 34 22 31
Fax: Int'l + 34 922 34 22 33
Visits: 8:30-18:30 (except Sundays)

Bodega Cueva del Rey
Camino Cueva del Rey, 8
38430 Icod de los Vinos (Tenerife)
Tel: Int'l + 34 922 12 14 14
Arrange visits in advance

Bodega la Palmita
Crta G Santa Barbara, 131
38430 Icod de los Vinos (Tenerife)
Tel: Int'l + 34 922 81 05 51
Fax: Int'l + 34 922 81 16 91
Arrange: José Manuel González

Bodegas Cueva del Viento
Camino La Manca, 4
38430 Icod de los Vinos (Tenerife)
Tel: Int'l + 34 922 81 17 96
Fax: Int'l + 34 922 81 17 96
Arrange visits with: Bernd Frike

Bodegas Socas
Crta General del Norte, km 53
38430 Icod de los Vinos (Tenerife)
Tel: Int'l + 34 922 81 05 13
Fax: Int'l + 34 922 81 05 13
Arrange visits with: Teófilo Socas

Cumbres de Abona Coop
Camino del Viso, s/n
38580 Arico (Tenerife)
Tel: Int'l + 34 922 76 86 04
Fax: Int'l + 34 922 76 82 34
Arrange with: Manuel Marrero

Bodega Comarcal Valle de Güimár
Subido los Loros, km 4
38550 Arafo (Tenerife)
Tel: Int'l + 34 922 51 04 37
Fax: Int'l + 34 922 52 43 66
Arrange visits in advance