Tenerife Beaches
It is always spring in the island of Tenerife. The geographical location of Tenerife and the trade winds, average temperatures remain pleasant all year.
In spite of being so close to the highest point of Spain (Teide) even in the winter the mild climate means you can get a nice tan on any of Tenerife's southern beaches and on a warmer day, those in the north too, whilst gazing accross at the snow on Mount Teide.
Some of the best beaches offering the best services on the island are of course the "Blue Flag" beaches which are :
Playa El Medano, municipality of Granadilla de Abona, Tenerife South
Playa Leocadio Machado, municipality of Granadilla de Abona, Tenerife South
Playa La Tejita, municipality of Granadilla de Abona, Tenerife South
Playa Las Vistas, Arona, Tenerife South
Playa Troya I and II, municipality of Adeje, Tenerife South
Playa Fanabe, municipality of Adeje, Tenerife South
Playa La Arena, municipality of Santiago del Teide, Tenerife South
Playa El Socorro, Los Realejos, Tenerife North
Playa Jardín, municipality of Puerto de la Cruz, Tenerife North
Playa San Telmo, municipality of Puerto de la Cruz, Tenerife North
Playa La Arena (Mesa del Mar), town of Tacoma, Tenerife North
Expect to pay around 6 euros for a sunbed and 4 euros for an umbrella on a blue flag beach.
Playa Los Cristianos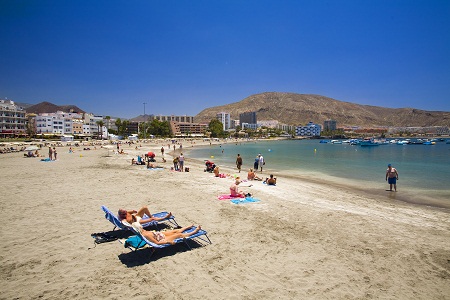 The beach of Los Cristianos is located near the port of the same name, in the municipality of Arona, has a length of 300 meters. This shipping port operates Fred Olsen and Armas, who make connections with the island of La Palma, La Gomera and El Hierro.
The town of Los Cristianos has a fishing tradition & it is very common to see the fishing boats arrive with their catch whilst you bake on the beach and it is also very common to see sailing schools or diving schools practising in the waters there.
The beach of Los Cristianos is surrounded by a recently refurbished promenade that gives a better look at the area, you can stroll or enjoy any of its terraces, cafes and restaurants as well as a wide range of shops.
Playa del Socorro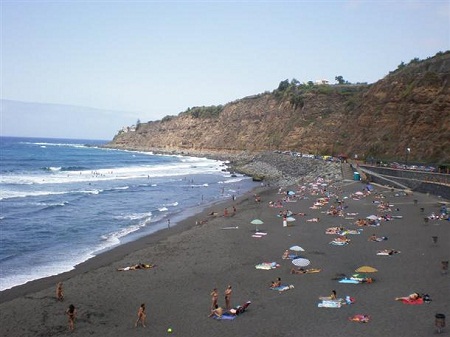 A popular beach with surfers thanks to the large waves often found here! It is located in the municipality of Los Realejos, for occasional visitors has very good signal to reach it and discover a completely natural landscape full of contrasts.
This is a natural beach with grayish sand, is about 200 meters long, is a very cute and quiet beach, where neighbors stroll the area and enjoy nature.
There are many services, eight easy and safe access of which two are for the disabled, fixed wooden walkways, parking, bus stop, toilets, bathrooms and services, garbage collection, showers etc ., a beach with many features despite how small it is comparand other beaches of Tenerife island.
Playa El Poris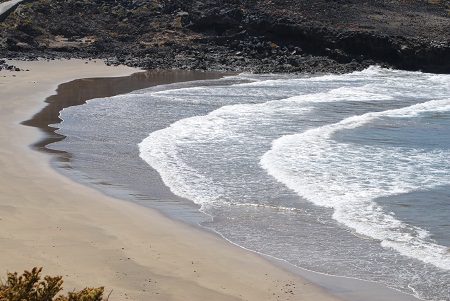 Poris beach is located on in south of the island, in the area of Arico. It is a golden sand beach, fine and natural texture which makes it very pleasant walk along & about 200 meters in length. Offers relief and lifeguard station, rubbish disposal, showers, while it has no access for the disabled, has some incredible scenery, and a sunrise worth catching!
This small beach with a family atmosphere is a quiet place to have a good day at the beach, bring your own food as there are no restaurants in the area. 5 minutes from the beach is Poris lighthouse.
Playa Abades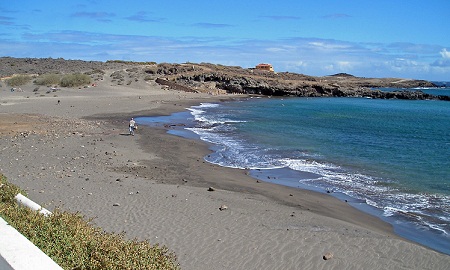 Located in the seaside suburb of Los Abbots, in the municipality of Arico. Whilst located in a windy part of the island, there's enough protection around the beach to protect everyone sunbathing there.
It covers an area approximately 150 meters, with parking, access for disabled, handicapped parking, showers & sand is golden and fine.
Along the beach you'll find small caves and coves so get there early to grab one.

Playa las Visitas - Arona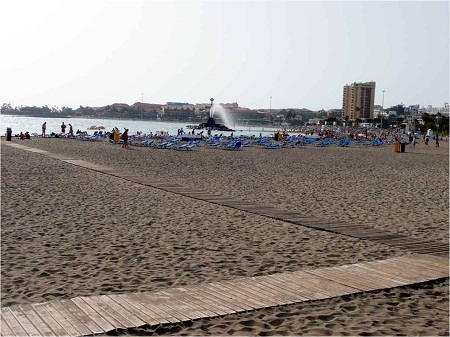 Found between Los Cristanos, traditional fishing village and tourist center of Playa de las Americas, flanked on one side by the beach on her nightgown and the other side of the Port of Los Cristrianos.
It is about 800 meters long, very clear and calm waters, golden sand, ideal for swimming all year round and very safe with minimum and maximum temperatures of the year between 15 and 25.
It is flanked by a large commercial area and a walkway where you can enjoy a drink or a meal in any of its cafes and restaurants. It has a tourist information booth, public transport every few minutes & three kiosks on the beach. There's water sports suitable for kids and adults, entrances suitable for the disabled with slopes of less than 6%, disabled toilets, watch-tower & lifeguard, red cross station and a good police presence.
Playa del Duque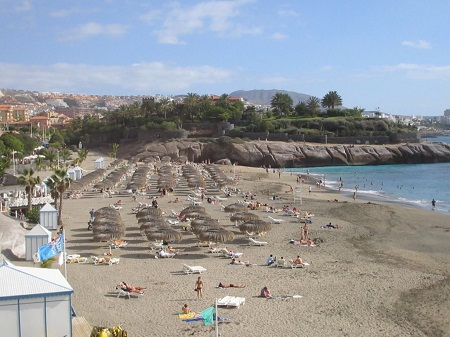 Located in the enclave of Costa Adeje in Adeje, the beach is about 300 meters long, very clear water and very fine gray sand, ideal for swimming all year and is by the Gran Hotel Bahia del Duque.
It is a beach with ten entrances with wood walkways to pass them, of which three are for the disabled, with a watch tower & lifeguard.
There is valet parking, restaurants, bars, showers, changing rooms, toilets, disabled toilets and telephones, public transport service is less than 5 minutes from the beach, there's also has some water activities.
Playa de Montaña Amarilla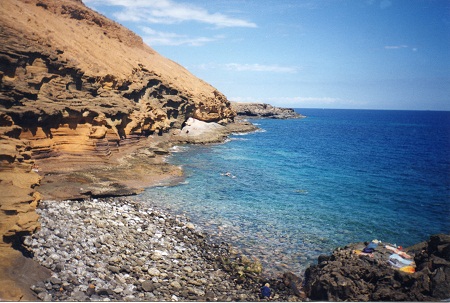 It is next to the Costa del Silencio, near the top of Montaña Amarilla, on the coast of the natural landscape of the same name. It is a rocky beach where nudism is practiced, which can be accessed from Ten-Bel and surrounding housing estates.
Playa de las Teresitas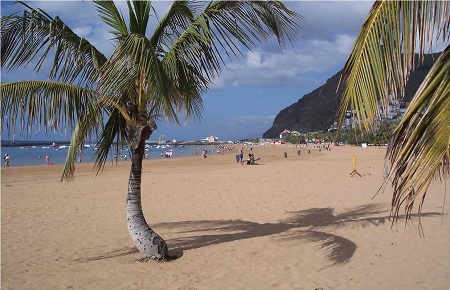 The Playa de Las Teresitas is situated in the village of San Andrés, municipality of Santa Cruz de Tenerife.
The beach of Santa Cruz capital is impressive for its extension over a mile, also for its golden sand brought from the Sahara desert, crystal clear waters and very clean.
There's plenty of parking, twelve entries which are all suitable for the disabled, has bathrooms and showers in almost all areas.
It's divided into three distinct parts that had different names: The Arena which was the first part, The Moors, in the middle and finally the zone covered by the ravine of Las Teresas.
If you're in the area 23rd June then head here for the anual San Juan celebration, not to be missed!
Playa El Medano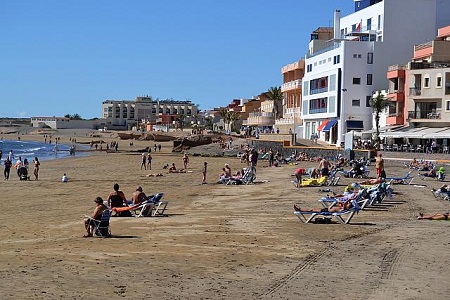 Starting at the hotel Medano and ending at the Red Mountain. It is quite well equipped with showers, lifeguard, bars, restaurants, garbage disposal, fixed wooden platform, multiple access for the disabled and so on. Offers rental of marine equipment.
Its length is 1150 meters, the sand is fine and golden, particularly special and different from the rest of the island in texture.
Passing the Red Mountain you can enjoy the beach of La Tejita with relatively large extension of 1.5 km in Red Mountain where erosion has carved a cliff of 50 m. high, you can enjoy several small trails that lead to the top of the mountain.
This is a great area for escaping the mass-tourism in many other parts of the south. El Medano has much more of a Spanish town feel as opposed to a tourist resort and the area and beach attracts a lot of the locals also. In the town itself you have a great choice of beaches, bars, shops... There's a good public bus service from the main resorts to El Medano.
Playa EL Cabezo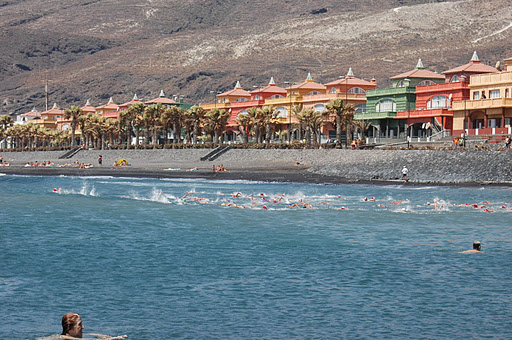 This is a continuation of El Medano north. In this area various international competitions are held windsurfing, as O'Neill Tenerife Grand Prix, the circuit of Professional Boardsailing Association (PBA).
Playa La Tejita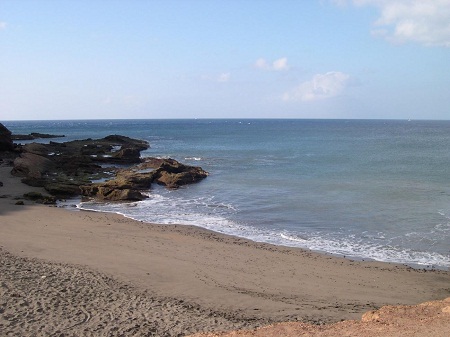 Golden sand beach and fine, suitable for swimming, especially at the ends of it.
Another natural beach and to enter you must leave the car in the parking lots (which are dirt), and walking down for about 300 meters.
Nearby is the famous nudist beach also called La Tejita and known for being one of the first nudist beaches where nude bathing was banned!
This beach is ideal for swimming all year round, ideal for walking by its large size is about 1000 meters approx. And enjoy the wonderful sunsets that occur there. It is located in the municipality of Granadilla de Abona near to El Medano.
It is usually busy with a lot of people from the surrounding villages and towns, especially the town of Granadilla. Because of its location there is usually wind most of the year, but has the Red Mountain which protects parts of it.
Playa Jardin - Puerto de la Cruz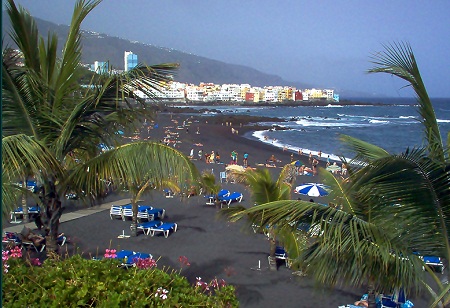 This beach in front of the park (Loro Parque) in Puerto de la Cruz, Tenerife North, was designed by the Canarian artist Cesar Manrique.
Playa Jardín beach is actually three beaches side-by-side, the first beach is found near the castle San Felipe, is about 250 meters long, the second 100 meters, and the third 300 meters, making a total of approximately 650 meters. Check to see if this beach has a blue flag or not as one year it seems to, the next not.
There's gravel in some areas, in others the sand is slightly finer, but all dark gray. There are many services which makes a comprehensive beach. There's toilets & showers here. On this beach there's four entrances for the disabled, a walk around, restaurants, gardens, palm trees, which gives it a tropical beach look.
Playa de la Arena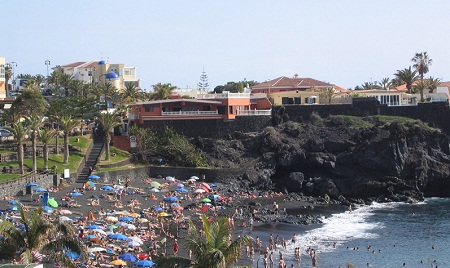 Located in the heart of the small resort of Puerto Santiago, Playa de La Arena stands out for its excellent location. Of fine, dark volcanic sand and about 120 meters long, the beach is equipped with all amenities. The numerous restaurants and shops in the vicinity and the hotel infrastructure in the area complement one of the most popular family beaches of local people and visitors.
El Camisón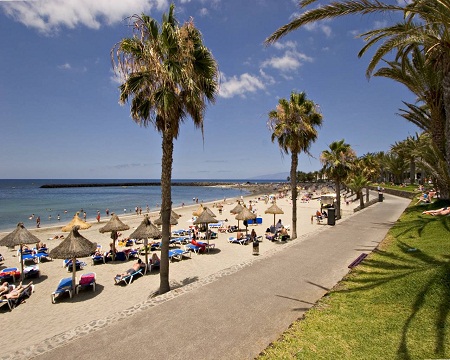 This is one of the many beaches between the tourist resorts of Los Cristianos and Costa Adeje. It is 120 meters long, is part of a continuous succession of beaches which are occasionally separated by a line of stones on the sand. Bathing conditions are always optimal as a breakwater protects it from currents and waves.
Playa San Marcos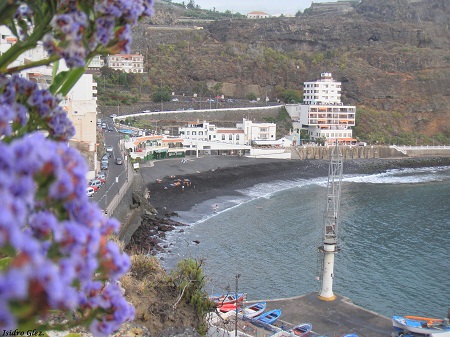 Located in the town of Icod, the small beach of San Marcos offers a family-friendly atmosphere, especially in summer, and volcanic sand, characteristic of this area. The beach has shower services and changing area and numerous bars and restaurants as well as a parking area next to the promenade. The conditions are excellent for swimming due to the shape of a shell from the beach, which keeps it protected from the ravages of the sea.
Playa Las Gaviotas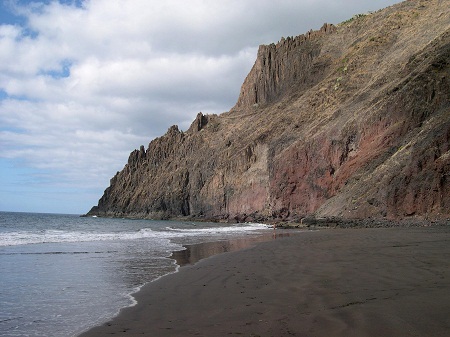 This beach is located behind the Teresitas, you get there along a narrow turn off the road between San Andrés and Igueste de San Andrés, past the viewpoint of "Los Organos". It is a small black-sand cove with several kiosks where you can practice nudism. Further inland you can walk to Playa Chica, attached to an apartment complex.
Playa de Las Galletas



Las Galletas is a fishing village in the municipality of Arona, which is half way between the airport and Los Critianos. It has a beach of black sand and pebbles in front of the fishing pier along the promenade. In Las Galletas there are good fish restaurants and you can also find caravans and camping during the summer and weekends. The nearby urbanization of Palm-Mar also has a beach of pebbles and some black sand.