Tenerife's Airports
Tenerife has two airports, the busier international airport in the south (TFS) is "Reina Sofia" and the airport in the north (TFN) is "Los Rodeos" and more commonly used by Spanish and Scandanavian services.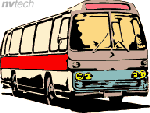 TRAVEL FROM THE AIRPORT VIA TOUR OPERATOR'S TRANSFER COACH
This is by far the most common method of transport and is made available to everyone who books a package holiday, that includes flight, accommodation and airport transfer. If you have this booked as part of your holiday, once you have your bags and pass through into the arrivals hall, one of the first things you'll see is a group of holiday reps in different uniforms, each holding up a clip-board with their company's logo. So, head for the one that looks like yours, let them know the name your booking was made in and where you are staying and they will tell you where the coach is waiting for you. Once you get to the coach, the driver may ask you again where you are staying so he can load the bags on the convenient side of the coach. Give him your bags and get on-board! All coaches are non-smoking so if the coach isn't full when you get there, you usually have time for a cigarette whilst you're waiting. There's also a no food or drink rule on the coaches so don't open a can as you get on! Usually, each coach has around 50 people, sometimes all going to the same 1 or 2 apartment complexes but often heading to 5 or 10 different complexes. The stops may be split between more than one resort so expect a transfer time lasting around 60 minutes once the coach leaves the airport.
CAR HIRE
Often, people book their car hire when booking their holiday with the travel agent and arrange to pick it up at the airport on arrival. Be sure to have your car hire booking receipt, passport and driving licence handy and keep your passport and driving licence with you whenever you are driving for the rest of your holiday.

(Read more about car)

PUBLIC BUS
Tenerife's two airports are represented by the Spanish airline authority "Aena" and both the new Tenerife North and Tenerife South airports are detailed online on the Internet, although all in Spanish. Tenerife South, being the bigger and busiest of the airports, has a much better site which shows you maps of the arrivals and departures halls, services available and a lot more. This is the airport you're likely to fly into from European destinations.
One of the nicer features of the web sites by the way is the ability to track both charter and schedule flights coming in and out of the airports in realtime; currently in the form of a "flight search" towards the top of the main page.